Freshmen Take On Finals Week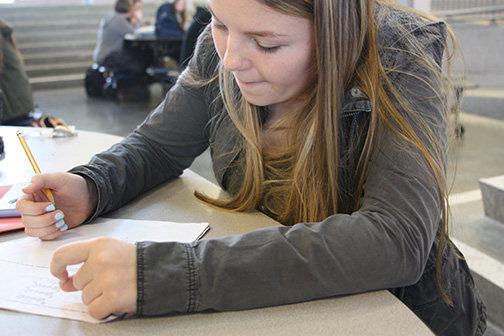 Hang on for a minute...we're trying to find some more stories you might like.
Transitioning from middle school to high school is hard enough but add in new teachers, homework and finals on top, makes it 10 times worse. As incoming freshmen, most students like high school because of new friends, more freedom, and taking classes they're interested in.  At the start of the year, students don't have finals on their minds and the end of the end of the semester comes quicker than expected and the rush to get and good grades is on.
"I have kept pretty good grades through the year but to think that the semester ends in just a week and the thought that I have to study all of this week stresses me out," Ashley Harvill said.
It's not just Ashley who is stressed out this week. Freshman, sophomores, and upperclassmen are also, especially if their final grade is final highly test dependent. "I feel like lots of kids wait until the last minute to study. I'm also included in that. I procrastinate like a lot of high school and college students," Harvill said.
Finals are a big deal for high school and college students. Everything you've learned in 18 weeks is crammed into an hour and a half test. "I am stressed, but definitely not as stressed as I thought I'd be. I always hear upperclassmen say how hard finals are and how bad they are going to do on the test but I really hope I do well, and I think I will.," Harvill said.