Let's Talk About Ms. Lee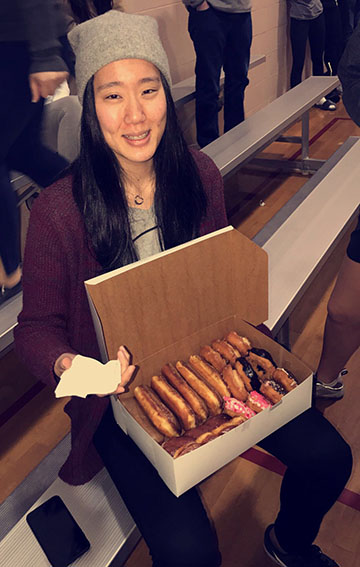 Hang on for a minute...we're trying to find some more stories you might like.
One of Glacier Peak's newest editions is Ms. Lee. Lee is a supporting teacher inside and out of the classroom. Lee loves to attend many sporting events such as Varsity Boys' and Girls' Basketball, REC leagues, as well as band performances. She is involving herself and making a great effort in being more than just a teacher to her students.
Lee makes a great effort to see what her students are capable of outside the classroom.
"I love seeing what my students are passionate about. My students are like family in a way, I never pick favorites I just get to know some better than others," Lee said.
Lee also does some kind gestures for her students like writing notes to let them know how thankful she is for having them in her class.
"There are five love languages and my top one is words of encouragement. I feel like supporting and helping my students feel better about what they are doing in class allows them to try and work harder," Lee said.
Another thing Ms. Lee does for her students is bring them donuts or drinks. She has a type of game with her students. If she sees them outside of school studying in some type of way, she buys them some type of food or drink. She also encourages her students to participate in class by bringing them candy.
One of Ms. Lee's students, Rajina Dusara, loves spending time with her whether it in or after class. Ms. Lee attends Dusara's REC basketball games and has even brought the team donuts before their games. Dusara loves how much Lee appreciates her students.
"She genuinely cares so much about all her students and it's clear to see every day. She always tries doing fun activities that will get us more involved and will help us enjoy what we are doing. Ms. Lee is so supportive in and outside of school, making me, as well as her other students, feel very appreciated and accepted. I love her as a friend and teacher. She truly is amazing," Dusara said.
Lee has supported another student, Makayla Guerra, during basketball games and in class.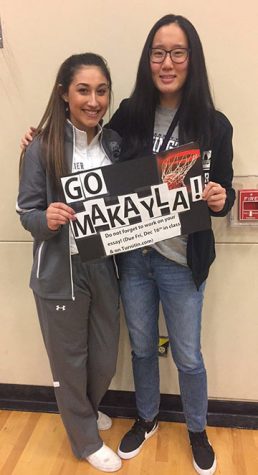 "Ms. Lee is probably the best teacher I have ever had because she is so nice and dedicated about everything. I can express myself in her classroom more than I can in any class. Lee has made me so many posters this season and has been one of the basketball teams' biggest and best supporters this season," Guerra said.
Isabelle Ivankovich is another fan of Ms. Lee's teaching and support system.
"I just love her so much that she brightens my day every time I'm at school. I go in her classroom every day before second period and say 'Congratulations, world's best teacher, wow how did you do it?' and the whole class joins in. She gives some of the best hugs and she is really awesome," Ivankovich said.
Ms. Lee is a new "baby teacher" as she calls it, but she has already made a big impact on many students at Glacier Peak. Lee is a great teacher and is really enjoying her time here with the students.