Fun things to do on Capitol Hill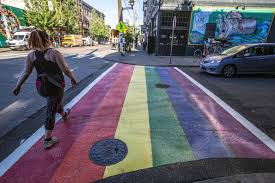 Hang on for a minute...we're trying to find some more stories you might like.
Capitol Hill is a neighborhood just east of downtown Seattle. Many people know this neighborhood by its iconic rainbow sidewalks. Capitol Hill is filled with pride and cheer. If you want a fun day, I would recommend visiting.
Volunteer Park is one of my favorite parks in Washington. Not only does it have awesome views of the city, but also a conservatory with plants from all around the world. This glass structure will keep you warm and amazed with beauty, costing only $4 to enter. Also in Volunteer Park, there is a historic water tower that visitors are able to walk to the top. At the top you will find views of the Space Needle and historic posters of Seattle history.
Also in Capitol Hill is a place called the Century Ballroom. This ballroom has classes and dance sessions every week. From salsa to swing, this place has teachers who will help you learn some new moves.
Looking for some dessert? Hot Cakes Molten Chocolate Cakery is outstanding. This Cakery makes their version of the famous Molten Chocolate Cake that will keep you coming back. These mini jar-sized cakes are baked to order and served with vanilla ice cream, and caramel sauce.
If reading is your thing, The Elliot Bay Book Company is your heaven. This book store contains tens of thousands of books. This bookstore is cram-packed with cedar shelves filled with books, since 1973.
If your looking for a fun day outing, try exploring Capitol Hill. You will not be disappointed with all of its food choices and activities.
Volunteer Park :  1247 15th Ave E Seattle, WA
Century Ballroom Link : https://centuryballroom.com/home/
Hot Cakes Molten Chocolate Cakery : https://getyourhotcakes.com/
The Elliot Bay Book Company : https://www.elliottbaybook.com