Passion For Fashion
Many young girls fantasize of becoming models in their future, Sophomores, Trinity Hollimon and Mary Sanders, are already living the dream. Both girls are signed with SMG (Seattle Model's Guild), Sanders is also signed with IMG New York and Los Angeles (International Management Group). You would think that modeling is a full-time job, luckily Hollimon and Sanders are both still able to do other activities they love, such as riding horses and doing art.
"Modeling has not affected school or sports at all, agencies love to see models who play sports because they can put that in your portfolio so you can model for brands related to your sport," Sanders said.
Sanders has been quite busy lately, doing many different types of photoshoots, she enjoys creative shoots and working with creative people. She has a passion for fashion, she even designs and sews her dresses for photoshoots and school-related events. Modeling has helped Sanders love who she is and what she looks like after getting picked on for her height when she was younger. Although she dreams of walking in the New York and Paris Fashion Week runway shows, Sanders is also interested in pursuing a career in STEM and is hoping to go to college for that. Signing with SMG and IMG has opened many new doors for her, modeling allows her to share her dewing talent and build her self-confidence.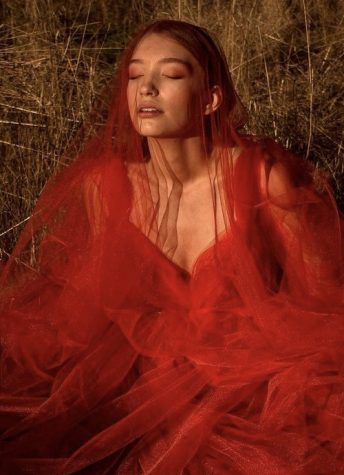 "The most memorable experience for me was when I sewed a bright red ball gown out of 130 feet of fabric and shot it in a giant field in Tacoma. The dress took four months took four and a half months to sew!" Sanders exclaimed.
Hollimon has also been pursuing many new modeling opportunities since signing with SMG last March, although she has been modeling ever since she was little. In 2013, she was featured in the American Girl Runway Show, this allowed her to meet other young models and get a sneak peek into what the modeling world is like. Hollimon continued participating in this show for 3 years and loved the experience. She hopes to one day move to New York and pursue a full-time career in modeling.
"Being signed with an agency has made me realize that this is what I want to pursue a career in and do as a job. I've done some super cool test shoots with smaller photographers to build my portfolio which will hopefully get me more modeling jobs in the future!" Hollimon stated.
Hollimon models alongside both her older and younger sister, Tiara and Tavia, all 3 are signed with SMG. When not in front of the camera she loves to spend time with her family and friends, listen to music, paint. Like Sanders, Hollimon loves to do creative shoots, although any photoshoot is a great time for her. She has found that modeling is a great way to build up your fashion sense and feel more comfortable with yourself.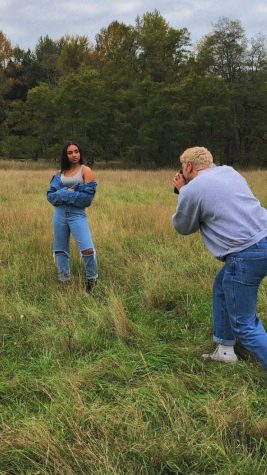 "I know a lot of models that compare themselves to other models and that makes them more self-conscious, but I always try to not compare myself to others. I think everyone is unique and beautiful in their own way." Hollimon said.
Both girls are advocates for being yourself and loving who you are, they encourage anyone who has considered trying modeling to go for it. Sanders says that casting directors love it when people show their true personalities and uniqueness, every person is special in their own way. Many people fear modeling because of the stereotypical standards in the modeling community, Hollimon pointed out that the industry is constantly changing and becoming more diverse. Some of the girl's biggest inspirations are Adut Aketch, Bella Hadid, Winnie Harlow, Hunter Schafer, and Yasmin Wijnaldum, these beautiful models continue to inspire many young people interested in the industry.
"I think the best part about modeling is the appreciation for uniqueness and individuality. More than anything agencies want to see what sets you apart from others. What might be seen as an insecurity in your eyes, could be the reason they want to sign you." Sanders said.
Hollimon and Sanders, who are only sophomores in high school, are already impacting the modeling community and having the time of their lives doing it. They have proved that even at a young age, it is possible to follow your passions, you just have to have confidence in yourself and put forth the effort to do so. Trinity stated that in the modeling world, you cannot doubt yourself, even if you are rejected countless times you cannot let this make you quit. The pair of girls are close friends and will continue to shock both the Glacier Peak community modeling industry with their accomplishments and determination, Hollimon and Sanders are great role models who will be going very far in the future.
Photos taken by Maria Grinchuk, Emery Lemos, and Ross Van Alstine
Trinity's Instagram- @trinity.hollimon
Mary's Instagram- @_marysanders_