GP Speech and Debate Hits the Edmonds Woodway Tournament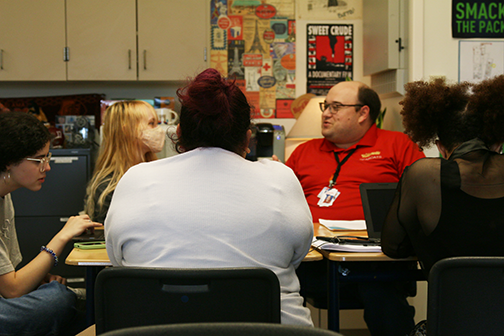 In the Edmonds-Woodway debate and speech tournament, freshmen Maisha Shirazi and Naomi Varghese received Quarter Finalist in Public Forum debate, and Isabella Botchek received third place in Novice Oratory. In this tournament, students from different schools throughout the state competed in different competitions, including debate competitions, Public Forum, Lincoln and Douglas, Speech competitions, Informative Speech, Oratory Speech, and more.
New Debate and Speech club members performed surprisingly well at the tournament. Club advisor Mr. Hanson was proud of the team and demanded high expectations for future tournaments. "The last tournament went very well; we have a great bunch of people from GP who competed excellently and won two awards. It was great to see Bella get third place in Novice Oratory, and our Public Forum team with Maisha and Naomi ended up getting a Quarter Finalist. It's impressive to see how much we've grown this year," Mr. Hanson said.
Members of the team are proud of their accomplishments and growth. Old members who participated in the tournaments as student judges believe it is a valuable experience to see all the passionate debaters and hear their thoughtful conclusions. "I think being a student judge is an especially memorable experience for me because when judging the student debaters, it does not only remind me of when I was debating, but also puts me in the perspective of the judge, and that perspective shift can help one understand arguments better–in terms of importance to the judge– hence, can greatly help one to succeed," student judge Elena Chen said.
Comparingly, freshmen and new club members also exceeded expectations in their competition. Quarter Finalist Maisha Shirazi declared that the Edmonds Woodway tournament was good practice for her and boosted her interest in debate. "The Edmonds Woodway tournament was fun, I made one of my opponents cry (through the debate), and it was fun to feel supreme and successful through debate. I liked talking against them and I refuted my arguments very well," Shirazi said.
Mr. Hanson advised that speech and debate encourages students to dig deep into controversial issues while helping them build teamwork. He is proud of the team this year, for they did an outstanding job in both criteria. "Speech and debate is all about teaching people how to think and come to their conclusions…the strongest thing this year is that everyone seemed to get along without any major blow-ups. But honestly, people are friends with each other, we're doing well at competitions, it's a very healthy environment!"