17 Movies to Look Forward to in 2019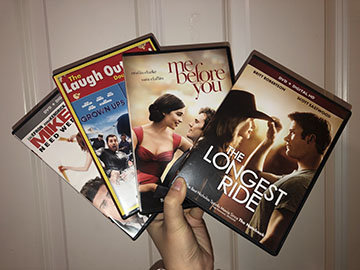 Hang on for a minute...we're trying to find some more stories you might like.
2019 began two weeks ago and while the new year can be a good or bad thing for some, one thing we can all agree on is that 2019 could potentially be one of the best years for movies. Movies can get expensive, especially when the ticket price is $15 plus movies and snacks, the cost can rack up quick but now AMC theaters released a membership a while ago where you pay $19.95 a month and you can see up to three movies a week with no limitations on the format of the movie such as Dolby, 3D etc. Paying $19.95 is almost the equivalent of one movie ticket and hypothetically you see twelve movies a month, you'd pay about $180 a month but with the membership, it's only $19.95. Here's a list of some of the most anticipated movies for 2019.
Glass is a crossover movie and is sort of a sequel from Split, if you are into thrillers, this movie is for you. (January 18, 2019)
What Men Want staring Taraji P. Henson, she plays a sports agent who gains the ability to hear men's thoughts, especially within her colleagues. (February 8, 2019)
The LEGO Movie 2: The Second Part– The first Lego Movie debuted five years ago, and fans have anxiously waiting for the sequel and now it is almost here. (February 8, 2019)
Happy Death Day 2U– The first movie came out in 2017 and it was about a girl named Tree Gelbman who relives her own murder every single day, she is stuck in a time loop. The next movie is two years later, and Tree is entering back into the time loop to discover the motive on the time loop. (February 14, 2019)
How to Train Your Dragon: The Hidden World– This is the third and final movie of the series when Hiccup's dragon, Toothless, finds a mate but a new threat arises to the dragons. (February 22, 2019)
Captain Marvel– This movie takes place in the 1990s and follows Carol Danvers, right now earth is in between a galactic war and Carol, one of the universe's most powerful heroes can only save the day. (March 8, 2019)
Us– This is the sequel from Get Out which came out in 2017. (March 22, 2019)
Dumbo– This live-action movie is a remake of the 1941 animation about a circus elephant with over-sized ears, this is a classic and you won't want to miss it. (March 29, 2019)
Avengers: Endgame– In 2018, Marvel released Infinity War which left a major cliffhanger for all the viewers, but the wait will be over, Thanos and the Avengers will return for their final fight, and this movie will hopefully answer all the questions we have. (April 26, 2019)
Aladdin– A rendition of the 1992 animated film, this live action will have all your dreams come true. (May 24, 2019)
Toy Story 4– Andy broke our hearts after he left for college and had to leave his childhood toys behind, now nine years later the toys are back and better than ever. Not much is known about the new movie but hopefully as the date nears, we will finally have a trailer. (June 21, 2019)
Spider-Man: Far From Home– Peter Parker and his friends go to Europe and Spider-Man has to save the day by protecting his friends from Mysterio, a villain. (July 5, 2019)
The Lion King– Twenty-five years later, Disney is releasing a new and improved animation which will break all our hearts as we watch Mufasa die all over again. (July 19, 2019)
IT: Chapter Two– 2016 was the year of clown sightings but also much publicity for Stephen King's IT which was released in 2017 but only showed half of the story, now it picks back up thirty years later with all the children grown up. (September 6, 2019)
Frozen 2– Five years ago, the first movie was released now Elsa, Anna, and Olaf are back and better than ever. (November 27, 2019)
Jumanji 2– Not much is known but if the second movie is as great as the first, we have nothing to worry about especially with Dwayne Johnson. (December 13, 2019)
Star Wars: Episode IX– To end the year off, Star Wars is back, and J.J. Abrams is captain for the sequel trilogy finale. (December 20, 2019)