Sonic Squirrels go to World Championship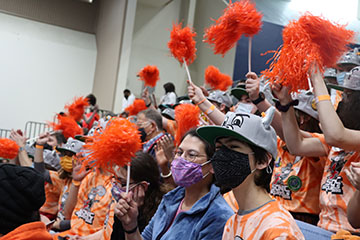 The Sonic Squirrels took a four-day weekend to attend the Worlds Championship in Houston on April 20-23, competing against 400 teams from 40 countries. "There were 75 teams on each of the six different divisions," drive team member Ethan Jorde said. "We ranked 54th in our division. Not the best ranking-wise, but it really was the best of the best out there."
In order to land themselves in Houston, the Squirrels traveled around the PNW competing for the top spots. "We got there by winning or doing really well at different district and championship events. We were finalists at Glacier Peak, we won at SunDome, and we were semifinalists at the Pacific Northwest championship," team member Sydney Pemble said.
Out of over 120 teams between Alaska, Washington, and Oregon, only 18 qualified to attend the world championship. "We ended up being 5th out of 124 teams in the PNW," Pemble said. Attending the global competition came as a bit of a surprise to the team. "Our initial goal was just to make it to PNW district champs," Alex Dole said.
This year's game, Rapid React, presented by Boeing, requires robots to compete to score their cargo balls into the lower hub and the upper hub (goals) of the play arena. Additional points would be earned if the robots climbed the monkey bar-like rungs of its hangar. The first 15 seconds of the match require robots to be autonomous, meaning that no driver is in control. During the remaining 2 minutes and 15 seconds of the match, drivers control their robots. Whoever obtains the most points wins the match. The Sonic Squirrels ranked 54th out of the 75 teams in their division. "We did decent. Because there was only one world championship this year instead of two, the competition level was a lot higher. I feel good about how we did this season considering that we were rebuilding the team after COVID," Dole said.
Despite the tough competition, the Squirrels had a good time. "Everyone's spirit was/is still high. We celebrated with a trip to the Houston Zoo," drive team member Ethan Jorde said. "The team still had tons of fun." In addition to enjoying each other's company, they got to meet people from around the globe. "I really enjoyed getting to know teams from all around the world, especially other countries. It was really cool seeing how everyone had a different take on how they ran their team or built their robot," Dole said.
A statement from the Sonic Squirrels:
"Simply making it to the FIRST robotics world championship was the greatest achievement we could have possibly hoped for this year. This accomplishment just goes to show how even through the challenges of COVID, our team was able to persevere and succeed. We had so much fun at worlds competing with the best of the best robots and the week we spent in Houston brought us even closer together as a team. We had an amazing season and I am confident that the team is being left in great hands in order to succeed for the seasons to come!"
The Sonic Squirrels meet on Tuesdays at 6:00 p.m. in Mr. Hayashi's room, 112.