Some Things Need to Change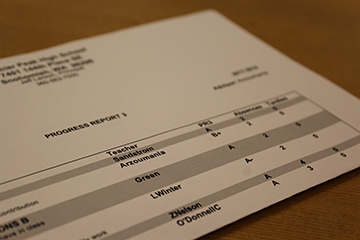 Hang on for a minute...we're trying to find some more stories you might like.
I love Glacier Peak High School. I'm going to start this article with that disclaimer, because it is absolutely true. The people are welcoming and warm, there are countless opportunities to try new things, learn and grow as a person. I feel at home here. I am so incredibly grateful to call myself a grizzly. While I love it and I enjoy coming to school, there are some things that need to change.
As a student, I am more stressed out than I should be. We hear that grades aren't all that matter, but it's hard to believe that sometimes when our futures are being shoved down our throats and college and other after high school paths are always hanging over our heads. Make sure you challenge yourself in classes, but also maintain good grades, but also get at least eight hours of sleep a night, but also make sure you eat a nutritious diet, but colleges also look at all of our extra curriculars so make sure you try a bunch of new things, and don't forget to maintain all of your friendships and relationships by spending time with the people you care about and don't forget to take care of yourself, but don't forget to have fun… ENOUGH!
American schools focus more on your cumulative GPA and your grades rather than your overall learning from a class. For Pete's sake, if you know half of the information, it's considered failing… what?  I've talked to a few sophomores who said that they switched out of AP world civilizations just for the sake of their GPA. They were learning and exposing themselves to new things like quicker pace along with different information and teaching styles, but they didn't always get it right off the bat, giving them a bad grade, dragging down their GPA and all the things that go with that like possible college opportunities. What a student learns in a class should be the most important thing, what they will remember after it is all said and done, their take-away. That information isn't always shown best through test and exams.
I know that some of these things I have learned in class and even in high school will not be on a test, yet they've helped me grow as a person. It's a screwed up system, but I just wanted to give a quick reminder as the year begins to draw to a close within the next few weeks.
You are so much more than a letter or number. That does not define you. Try your best, don't stress too much and never let a grade make you think less of yourself. Focus on learning and absorbing as much as you possibly can.