Stranger Things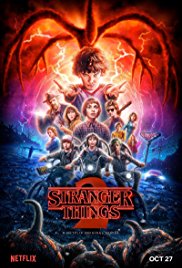 Season 2 of the Netflix Original Series "Stranger Things" was released on October 27th, and everyone's been talking about it. While most people binge-watched all nine episodes the day it came out, I took my time in watching the second installment of the show.
If you have seen the first season, you would remember that the last episode ended with Will coughing up that nasty slug in the sink while he was in the bathroom, and Hopper was leaving food for something in a box in the woods. Eleven was forced to stop a monster that was thought to have killed her because of the power it took to destroy it.
Season one left all the "Stranger Things" fans having some sense of closure, but left everyone wondering what was in store for season two. Season one was filled with action and adventure, twists and turns, and had most viewers on the edge of their seats agonizing with all the suspension.
In my personal opinion, the second installment was even more entertaining than the first. There are new additions to the cast, including Sean Astin (The Goonies, 50 First Dates) as Joyce Byer's (Winona Ryder) boyfriend, Sadie Sink as Max Mayfield, a new girl in Hawkins, and Dacre Montgomery as Max's stepbrother, Billy Hargrove. There are tons of other additions to the cast, and more relationships between characters. The character development is outstanding, the plot is intense and suspenseful, and there is a lot more blood and violence. The graphics are believably real and there are even more surprises.
"It's a roller coaster in terms of plot and storyline," Aidan Nelson said.
The continuation follows our same cast, all seemingly safe and sound, until viewers become aware that Will Byers suffers from what everyone thinks are flashbacks, but are actually moments where he's taken back to the Upside Down. Everyone tries to help him, but eventually, it gets the best of him and the entire season is about the group trying to solve the problems the scientists couldn't solve on their own.
To know what happens, watch it for yourself! Stream on Netflix now.