Spring Football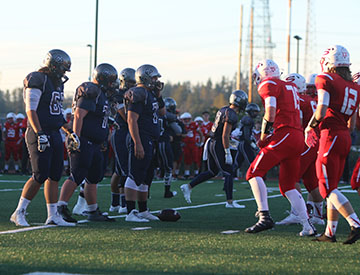 Hang on for a minute...we're trying to find some more stories you might like.
Glacier Peak football has always been something for the Snohomish community to look forward to each and every school year. Year after year of having a winning record, the 2017-2018 season is going to be a special one for the Grizzlies. After finishing up spring football, things are looking bright. With the recent new head coach Nick Bender, things are finally heading in a good direction on and off the field.
After coming off a 5-5 season and making some adjustments with coaches and the team overall, The Grizzlies are looking to put last season behind them and come out hungry to win. Having a good balance of seniors and talented underclassmen will help them to go far this upcoming season along with 4 senior and 1 junior captains; Ankur Graves, Ayden Ziomas, Bo Burns, Josh Erling and Austin Scriver. The Grizzlies will go up against some of their first competition this upcoming weekend at the Central Washington University team camp. This won't necessarily depict how the grizzlies will do this season, but it is a good sneak peek of what is to come. Catch the grizzlies at CWU for some pre-season competition.