Making Varsity As A Freshman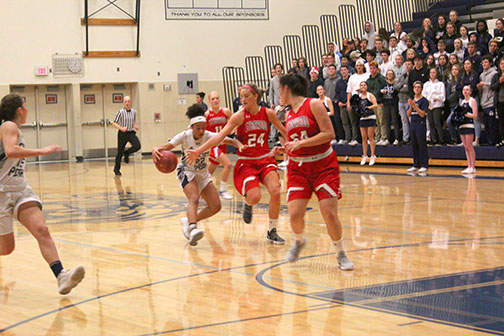 Hang on for a minute...we're trying to find some more stories you might like.
Starting out the winter season, freshman Aaliyah Collins, made the varsity girls basketball team. When first seeing that she made the team Collins said, "I was surprised and excited when I saw that I made the team."
Being the only freshman on the team might seem like a bit of an adjustment but Collins says the adjustment has been fun and she feels right at home with her team.
Collins admires her teammates Abbie Juozapitis and Nicole Jenson because of their work ethic and leadership which she also hopes to achieve one day. She also tries to learn from her sister who Collins says, "when things don't go her way she bounces right back up," something she wants to draw from.
Collins said, "I've been playing basketball since I was in kindergarten and I also play for an AAU team called Seattle Future year-round."
Basketball runs in the Collins family, with both of her siblings playing or having played Grizzly basketball. Her older brother Anthony, a senior, currently plays for the GP boys varsity team. , "My brother was kind of salty about me making the team,"Collins said.
When asked why she thought she was chosen to play on the varsity squad, she says, "I work hard, and I have a lot of heart."
The age difference doesn't intimidate Collins and she looks forward to the possibilities the upcoming season holds. Last year's varsity girls' team made State and Collins hopes to help her new team go back again. "I'm just excited to see how things turn out and see what happens from there.".
Support the basketball team at their next upcoming game. The schedule is available at www.wescoathletics.com.