Getting Ready For Next Season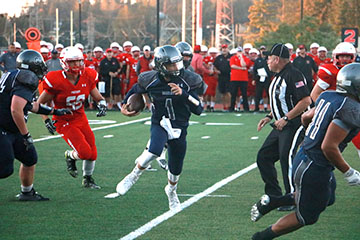 Hang on for a minute...we're trying to find some more stories you might like.
In 2015, Glacier Peak got extremely lucky when Ayden Ziomas transferred to the Snohomish School District. Ayden was supposed to be going to Lynnwood High School but instead came to GP. Ayden is the quarterback for the Grizzlies and has been the starter since his freshman year. Ever since transferring to GP he has been a valued asset and weapon for the Grizzlies. Ayden has been playing football since a really young age as well as training to be at that top level. Ayden has aspirations to play Division 1 football and hopefully go to the NFL.
A big part of Ayden's training has come from a program called FSP. FSP stands for Ford Sports Performance, which is a facility located in Bellevue and is ran by Tracy Ford.
"Basically, the coaches just help us train, they get us faster and stronger and then also we play 7 on 7 and we go around the country and play in national tournaments. I have met some of my best friends there," Ziomas said.
He likes football for many reasons, but one of his favorite things is meeting interesting people.
"My favorite thing about it is meeting new people from different parts of the state because I used to not know people from other areas and now I'm friends with people from Tacoma and eastern Washington for example, and I think that's pretty cool," Ziomas said.
FSP is an elite program, so there is a lot to learn.
"FSP really helps me because when we travel we get to play good competition, playing against kids from other states. It lets us see what the competition level is around the country, we get to play bigger and stronger guys which makes me better for when I come back to high school football," Ziomas said.
Every year football teams lose seniors that can negatively impact the team but Ayden feels pretty confident that the team will be successful next season and is looking forward to his senior season here at Glacier Peak.
"I think next year should be pretty good, we are losing a lot of good people but there are a lot of good players stepping up and I know with the coaching changes things will be different, but I look forward to it and I think its going to be good," Ziomas said.