DECA In Disney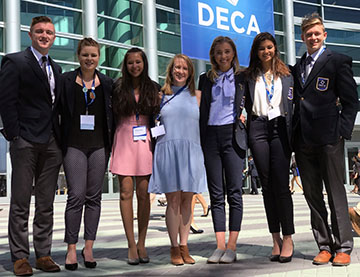 Hang on for a minute...we're trying to find some more stories you might like.
On Tuesday, April 25, six DECA students flew to Anaheim, CA for the yearly International Career Development Conference. "This is our international conference, so it's something that kids really have to work for, in order to be able to go. The kids go to area and those who place move on to state and then if they place at state they are chosen to represent our state at ICDC," teacher Alicia Sents said.
At the conference, not only were the kids able to enjoy the sun and Disneyland, but they were also given the opportunity to go to workshops and to compete and compare notes with other DECA students. "It was a really cool learning experience, on the first day Nate Schaub and I were able to go a workshop to learn about other stores and how they work. It was interesting to find out that a lot of other stores don't do the things we do, like selling pizza and burritos," Brendan Dolleman said.
The Deca Den has been around for almost ten years, and this year they were able to get it certified.  "The boys really had to work hard for that and I'm really proud of them, they had to put together a presentation about how we utilize promotions in our school, and store standards," Sents said.
Schaub and Dolleman were awarded a gold rating and were invited to present to judges at the ICDC conference. Malaya Hsieh and Isabelle Ivankovich also went to the competition to participate in personal selling events. "The girls did awesome and I was blown away by Isabelle, it's her first year in DECA and she really stepped up, and got first at State which isn't easy, it takes a lot of work." Sents said.
Lauren Michael and Kiersten Lee were both also able to join in on the trip. "We filled out an application, and around 20 people from our state got in. It was an awesome experience and we were able to take classes at an academy, I am humbled to have been able to grow in myself, and be able to benefit me deciding my future career path," Lee said. The new business plan is good for the next five years, the food part is now certified and DECA plans on certifying and focusing on retail this next up and coming school year.