Off to Regionals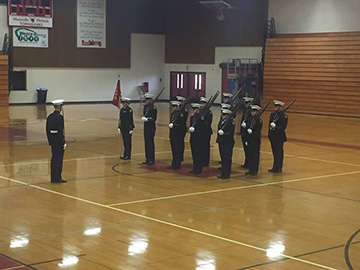 Hang on for a minute...we're trying to find some more stories you might like.
The Snohomish Marine Corps JROTC Armed Drill Team had a goal from the beginning of the season which was to make it to regionals. Regionals for JROTC is like state for any sports team; the best three schools from each division go to compete in either the PFT-team ( physical fitness team), unarmed drill, armed drill, color guard, or rifle team.
With the teams over all of making it to regionals, they had little goals to help them get there.
"The team met every day Monday through Friday, practicing from 6-7am each morning. Additionally, the team occasionally met after school and on the weekends in order to be fully prepared for every competition. On top of practice, the cadets were required to put academics first, maintaining a minimum of a 2.0 GPA and could not be failing any classes. In conclusion, I'd say it took a great deal of dedication," said Peter Faber, the senior captain.
Before regionals took place, the team had four other competitions to compete in, against seven other teams. The team took three top three places and one second place in the competitions. Knowing that the team made it to regionals and being able to compete was an unforgettable memory.
"I slept happy. I was eager to compete and to challenge myself to a higher level of drill and I was excited to bond with my team on a deeper level. We had a blast both of the days, before competition and during competition and during completion from going out with the team on Friday night to meeting new people from other schools," Nick Larkin said.
With multiple seniors leaving this year, this is exactly how they wanted to finish off their drill career, with some having four years of drill under their belt. It can get emotional knowing that their season is over.
"It makes me feel kind of like I was able to accomplish something and bring a nice sense of pride and closure. Although I am sad that the last season has ended and high school will end soon as well, I will never forget the friends I have come to call family, and the memories that have been made," Larkin said.
With a total of seven seniors leaving this year, they will never forget the bond they have shared throughout all the years of dealing with each other. They have left a legacy behind and have set the bar high for the next generation of drillers coming next year. All the seniors can do now is pass off the knowledge to the next generations and watch them succeed.