Senior Farewell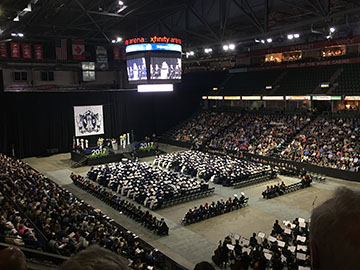 Hang on for a minute...we're trying to find some more stories you might like.
Attending the graduation for the class of 2017 was bittersweet. When the students hooted and hollered as each classmate received their diploma, it was not without a slight sadness, as one by one the students ended one chapter of their lives and looked forward toward a new one.
Before presenting the valedictorians, Mr. Dean told a short story called "The Push." He told of how an eagle will never truly realize what a privilege it is, until it is pushed out of it's nest and given no choice but to fly. He talked of how seemingly cruel this may be to do to a group of helpless eagles, yet it is the one true act of love that is displayed by an eagle. In order for their children to soar, they must first learn to fall.
Michelle Baldini, one of the class valedictorians, delivered a speech on what it means to be a grizzly and how it's important to treasure the little things in life.
After a performance from the band, Luke Meader presented a moving speech of his own. He spoke about how his parents told him that being an adult is no fun, and is determined to change that precedent.
"You must make tomorrow brighter than today, even if it's by the light of a bonfire cutting through the night," Meader said. He concluded with the importance of caring for one another, and how we all must care for the person right in front of us; no matter if it is a family member or a stranger.
Right before the ceremony, Baylor Blair also delivered a speech. He recalled how it was difficult navigating high school early on only being known as "Mr. Blair's son". The expectations that fell on him because of that. He told the audience of how his flaws and strengths were all part of what made him him, and urged the crowd to focus on learning about and being themselves.
After all the students had received their diploma and exited the stage, the band's final performance was a score from Star Wars, perfectly fitting for the nostalgic and thrilling occasion.