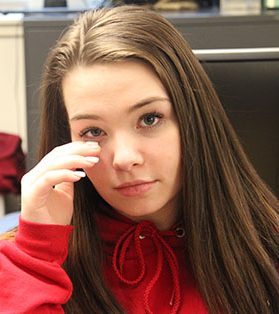 Melany Herrejon
It's that time of year again. Winter Break is now behind us and standing between us and those glorious summer days is five more months of school. This includes the first semester finals that will take place Jan 22-26. While the future may seem bleak for our grades this is now the best time to really reflect on what makes you happy. Strive to think about what makes you happy every day, and you'd be surprised at how much the day gets when you focus on the positive aspects of your future. This might be a little difficult so here are some thoughts from fellow Glacier Peak students.
Sofie Bradford: "When I'm by myself looking at the stars at night because I feel one with my inner zen."
Hailey Christenson: "Laying in my bed without pants on because only then am I at my most peaceful state."
Luke Allan: "When I look into my bank account because I see opportunities and I feel happy."
Maddie Seelhoff: "I like taking naps because I feel so much more relaxed and I get more energy."
Jeremiah Dellinger: "When my three year old brother starts laughing really hard."
Tori Bullard: "Chick-fil-a Nuggets and waffle fries are the best thing and they make my day."
Ellie Ricci: " I get happy when I hang out with my friends because they make school so much better."
Christian Hawk: "Tyson's meme hair. Basically everything in my friend's meme group chat because it all makes me happy."
And keep this in mind: Spring Break 2018 starts on March 29.