Learn About The LMC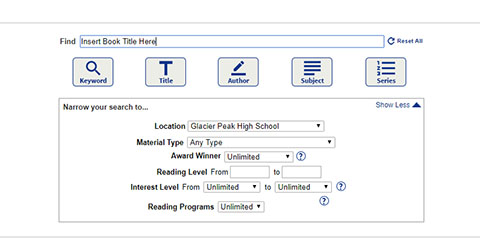 Hang on for a minute...we're trying to find some more stories you might like.
If you go to the library, you'll notice that on top of the reference book shelves there's an ever-changing selection of books on display. These books are new arrivals to the LMC. You can always check out books from the display on top of the shelves or even in the display window in front of the LMC if you ask Mrs. Waltz to unlock it.
The librarians are also available to help you find a book to read – for fun or for homework- if you can't find it in the database, as well as recommend a book.
"I try to find out what the students like to read, that way when they ask 'what's a good book to read?' I can help them select a book in the genre they like," Peter Mohn said.
Once a month the library gets a shipment of seven or eight newly released books from the Junior Library guild to add to our collection. Along with these monthly shipments, Mohn, along with Mrs. Waltz, place orders for books once or twice a year, most recently a large shipment of science fiction books from Mr. Juhl's Sci-Fi reading list.
When you're looking for a book, you can search on the library catalog through the school's website or you can ask Mrs. Waltz or Mr. Mohn to request from another school. Another option is to request them to add to the next book order.
"We have a huge selection of books, I think students sometimes go to Amazon to order it or other places without checking here for it. We have a lot of eBooks and audiobooks that they can check out online from home," Waltz said.
The library provides tons of resources besides books as well through the school website.
"We have premium databases online for students to use, most students automatically do a Google search when they start a research project and that's not necessarily the best and authoritative information out there," Mohn said.
Links to the school's premium databases can be found here. Mohn is also in charge of curating the links and making sure they are compliant with the Americans with Disabilities Act, so that the links are easily identifiable to students who can't read off the computer screen.
Below are just some of the recent additions to the library:
Satellite by Nick Lake
"He's going to a place he's never been before: home."
Moon 2 is a space station that orbits approximately 250 miles above Earth. It travels 17,500 miles an hour, making one full orbit every ninety minutes. It's also the only home that fifteen-year-old Leo and two other teens have ever known.
But has anything really prepared them for life on terra firma? Because while the planet may be home to billions of people, living there is more treacherous than Leo and his friends could ever have imagined, and their very survival will mean defying impossible odds." Goodreads Link
 Sea of Strangers by Erica Cameron
"Book 2 of the Ryogan Chronicles. The only way for Khya to get her brother back alive is to kill Varan—the immortal ruler who can't be killed. But not even Varan knew what he was doing when he perverted magic and humanity to become immortal." Goodreads Link
The Space Merchant by Frederick Pohl and Cyril M. Kornbluth
"It is the 22nd Century, an advertisement-drenched world in which the big ad agencies dominate governments and everything else. Now Schoken Associates, one of the big players, has a new challenge for star copywriter Mitch Courtenay. Volunteers are needed to colonize Venus. It's a hellhole, and nobody who knew anything about it would dream of signing up. But by the time Mitch has finished, they will be queuing to get on board the spaceships." Goodreads Link
The Love Letters of Abelard and Lily by Laura Creedle
"When Lily Michaels-Ryan ditches her ADHD meds and lands in detention with Abelard, who has Asperger's, she's intrigued—Abelard seems thirty seconds behind, while she feels thirty seconds ahead. It doesn't hurt that he's brilliant and beautiful.
When Abelard posts a quote from The Letters of Abelard and Heloise online, their mutual affinity for ancient love letters connects them. The two fall for each other. Hard. But is it enough to bridge their differences in person?" Goodreads Link
Far from the Tree by Robin Benway
"A contemporary novel about three adopted siblings who find each other at just the right moment." Goodreads Link
The Apocalypse of Elena Mendoza by Shaun David Hutchinson
"Sixteen-year-old Elena Mendoza is the product of a virgin birth.
This can be scientifically explained (it's called parthenogenesis), but what can't be explained is how Elena is able to heal Freddie, the girl she's had a crush on for years, from a gunshot wound in a Starbucks parking lot. Or why the boy who shot Freddie, David Combs, disappeared from the same parking lot minutes later after getting sucked up into the clouds. What also can't be explained are the talking girl on the front of a tampon box, or the reasons that David Combs shot Freddie in the first place.
As more unbelievable things occur, and Elena continues to perform miracles, the only remaining explanation is the least logical of all—that the world is actually coming to an end, and Elena is possibly the only one who can do something about it." Goodreads Link
Batman: Nightwalker by Marie Lu
"Before he was Batman, he was Bruce Wayne. A reckless boy willing to break the rules for a girl who may be his worst enemy." Goodreads Link