Out With a Bang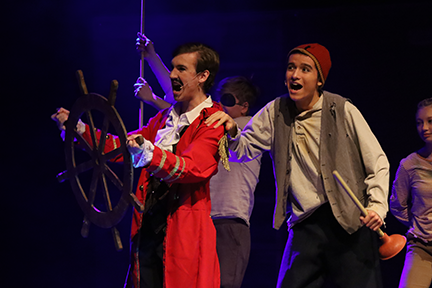 With a total of 1,447 tickets sold, drama club closes their show Peter and the Starcatcher after weeks of hard work. Peter and the Starcatcher is a play following little girl, Molly Aster, through a load of different struggles as she finds her way as a junior Starcatcher, one of seven and a half to be exact. Britta Jorgensen shared this role with Alana Flores. Thrown into this role together, both Flores and Jorgensen believe that this was a great experience. "I definitely feel closer to her [Britta] we weren't close to each other beforehand," Flores said, "so that's been really nice."
"I love Alana so much. We worked very well together, and they were very considerate of my feelings." Jorgensen said.
Fighting against Molly Aster, main villain Blackstache – played by Cole Harback – goes through thick and thin, searching for stardust that Molly Aster is protecting with her life. Despite Blackstache losing a hand in the production, Harback survives to this day with two functioning hands. "It was very fun, because generally I'm not a very evil person in real life," Harback said, "It's very fun to play a character that's not like you."
Apart from cast, crew has large role in the production as well. Crew's job is to take care of everything behind the scenes. This includes, sets, costumes, lighting, sound, etc. "I'm in set and it's a lot of cutting cardboard, so much cardboard." Sabine Kenney, a crew member said.
Not only does crew help the production come to a finish, but they have a fun time doing it. "We have quotes, like a quote wall and a meme wall in the tech booth." Kenney said.
Cast or crew, thoughts are scattered with the show coming to an end. "Everybody's excited because it's closing night you know, but I also think it's gonna be a little sad, like bittersweet." Kenney said.
Harback joins Kenney in her depiction of closing night, "I'm feeling a little bit sad but just because the shows been fun," Harback said­­, "but I'm overall happy with it and I think it went really well and I'm looking forward to the spring show."
Leave a Comment