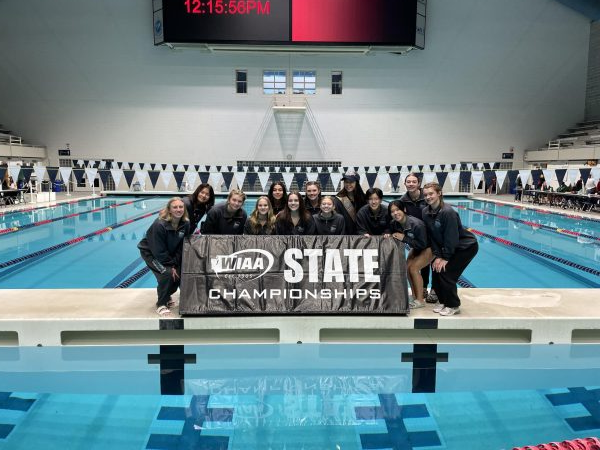 Girls' swim and dive competed at the girls' 4A state meet from Nov. 9-11. Placing seventh overall, the team finished in the highest position ever. The dive team had three girls go with Addy Farman getting first place and breaking 400 points with a score of 403.40. The other divers were Claire Butler who placed third with a score of 329.15 and Selma Boudraa who placed 11 and got a score of 262.55. "State was so much fun, and I was over the moon in the moment. While I was diving, I felt calm because after two dives I had a pretty big lead, so I was very comfortable taking my time and not over thinking the dives. I also got to spend so much time with my friends and my best friend won 2A, so we got to celebrate together," Farman said.  
For the 500 free, Alena Lehmann finished second with a time of 5:03.19. She also got fifth during the 200 free with a time of 1:55.51. "I was really happy with how I did because I worked really hard on this season. It definitely hurt getting out touched especially since it was for second place and during the 500 when it's a much longer race. Our team did great, and we didn't get the records unfortunately that our goals were, but it was really fun hanging out in the hotels with everyone. This state year was definitely my favorite so far," Lehmann said.  
The 200-freestyle relay finished seventh place with Lily Lao, Megan Maley, Emma Lehmann, and Alena Lehmann all swimming a time of 1:44.01. Maley is a freshman, so it was her first time at state which she qualified and swam in four events in. "Being a freshman at state was a really cool experience and although it was stressful, I had the best time with my teammates. I was happy with how I did at state, but I was mostly just excited about the experience and the success of the team as a whole rather than how I did individually. My favorite memory was going to target after practice with the team and the coaches," Maley said.