Love, Simon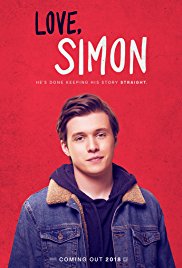 Hang on for a minute...we're trying to find some more stories you might like.
Our review: 9/10; excellent and progressive movie about topics facing gay teens in this age, while relating to a truth about human nature with some corny scenes, as expected from a teen movie.
With a score of 92% on Rotten Tomatoes, $11. 2 million dollars of revenue in the box office so far and a star studded cast including Nick Robinson and Jennifer Garner, "Love, Simon" has exceeded expectations. The movie is about a closeted gay teen who is faced with a difficult decision of keeping his two best friends apart or releasing his secret of being gay to the entire school. The main character, Simon, emails an anonymous classmate and tells him a secret that he hasn't told any one before – that he's gay. However, another classmate gets a hold of the emails, threatening to release them.
The first major movie picture about a gay teen, "Love, Simon" can be relatable to everyone. Adapted from the book Simon vs. The Homosapien Agenda, it stays true to the original author's plot while at the same time illustrating concepts that haven't been seen in theaters before. The movie teases at gay culture and teenage culture, letting everyone laugh at themselves, something we all need to do in a political culture as polarizing as this.
The soundtrack includes "Rollercoaster" by Bleachers, "Love Me" by the 1975 and "Love Lies" by Khalid and Normani, including some songs from the past from artists such as Jackson 5 and Whitney Houston.
Although about a male gay teen, 58% of the audience was female and only 59% of the audience was under 25, appealing to everyone. Many people have documented their experience of watching the movie, even with their parents, that it has made them more open and tolerant.
The film was released March 16th, and is expected to remain in theaters for only a few more months, so see it now while you can.
See the trailer here.