Blowing Through Snohomish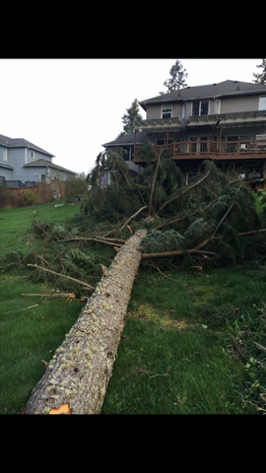 On Sunday March 13th a violent wind storm interrupted the calm, leaving 33,500 people in Snohomish County without power. Many stayed inside their homes and watched the whirlwinds. The storm took a man's life when a tree fell on top of his car on the upper loop of Seattle's Seward Park according to King 5 News.
Countless families eagerly awaited for the power to come back on.
"I was signing up for my classes when the power went out. I thought I would be able to finish registering but my laptop died, I was stressing out until the power finally came back on," sophomore Nathan Aguinaga said.
As a result of the power being out, stoplights were off or blinking creating massive traffic jams on the already littered streets.
"It took my family and me about 2 hours to get home from Lynwood," junior Samantha Kunz said.
Most neighborhood power  came back on between 10:30 and 11p.m. When the sun rose all the debris and broken trees scattered across the roads were visible.
"A branch flew off and put a hole in my trampoline," sophomore Abby Allan said.
Luckily, almost all students have regained power.