Life On The Ice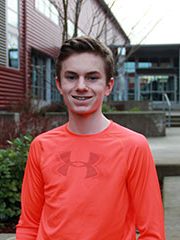 Hang on for a minute...we're trying to find some more stories you might like.
Over winter break, freshman Kamden Black and his little sister Kayla competed in the U.S. Figuring Skating Championships in San Jose, California, coming in 6th place in Intermediate Pairs Skating.
Kamden has been skating for six years, and started pairs skating with his sister three years ago. Both Kamden and Kayla compete in individual figure skating as well as doing pairs.
"Seeing her do well is really fun to watch, because I'm a better skater – not to brag- and I'm older, and it's really fun in competition to watch your little sister do amazingly well. It makes me so happy and proud," Black said.
Currently, Kamden and his sister are in an off season between competitions, but they still spend two hours a day, five days a week, practicing at their home rink, OlympicView Arena. They warm up every day by running stairs and doing presses off-ice. Besides on-ice practice, they also do ballet to help them train off-ice twice a week.
"It is immensely hard, especially when you're trying to have a 4.0. It is super hard to go skating and then as soon as you come home you have to eat dinner and do homework for two hours, there's almost no time for any fun," Black said.
Kamden is excited to start making new programmes for his upcoming competitions and working on new moves, like a double axel where the skater jumps and does two and a half rotations in the air. He also enjoys learning lifts with his sister.
"Every single lift, before you do it on ice, you do it off ice and then once we come on ice we practice on the harness, and then when you come off the ice without any safety procedures, it's really just thrilling and fun," Black said.
Kamden got into figure skating when his older sister started taking lessons, and her coach wanted him to skate as well.
"It used to be a hobby but now it's something that I really want to do professionally and next year we're going for a medal," Black said.