Graduation, The Important Part (Eating and Parking)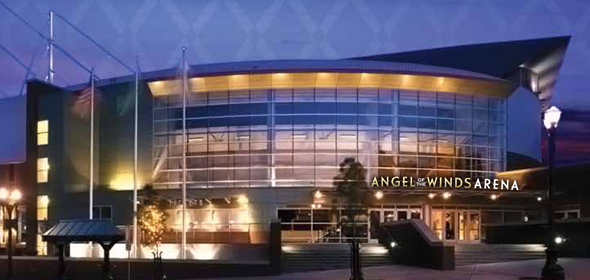 Noah Stone, Staff Writer
May 17, 2019
With graduation less than a month away, it is time to start planning for the big day. Graduation is at the newly named Angle of the Winds Arena, formally known as Xfinity Arena. It is located in downtown Everett of of Hewitt Avenue, approximately 20 minutes from Glacier Peak.
Before graduation there are lots of tasty dinner options to try out. You can never go wrong with Brooklyn Brothers Pizzeria. Slices are served everyday all day, using family recipes since 1977. With four stars on TripAdvisor, their pizza will not disappoint.
For those who are not a fan of Italian, Anthony's Home Port,  Everett Marina location is known for its famous seafood. Anthony's overlooks the largest saltwater marina in the Pacific Northwest, it is about a ten minute drive to Angle of the Winds Arena from Anthony's. You will probably need reservations for this restaurant. Call now. 
Right across the street from Angle of the Winds is a great Chinese restaurant named Tang Wong. Try not to be discouraged by the outside, as the food does not disappoint. Tang Wong is a family owned restaurant that serves authentic Chinese food. With prices being reasonable and good portions, it could be your new favorite Chinese takeout place.
After dinner, parking can be hard due to the fact that hundreds of families will be at graduation. Street parking is normally the cheapest and the most easy, but you have to get lucky. The closest parking garage is the Snohomish County Parking Garage, but because it is underground can take a while to get out. The price for the evening is $6. A second parking garage that is about two blocks away is the Everpark Garage. This garage is a little father but much easier to get out of because it is above ground and is only $5. Port Gardner parking is on California St, only a few blocks away from the Arena about a six minute walk. This garage also costs $6.
Hopefully this has helped prepare for the big day, with some new places to try, and an easy place to park.
Brooklyn Brothers Pizzeria
Anthony's
https://www.anthonys.com/restaurants/detail/anthonys-homeport-everett
Tang Wong
https://www.tangwongeverett.com/
Parking Lots
https://snohomishcountywa.gov/355/Parking-Management
http://www.downtowneverettwa.org/everpark-garage/
https://www.diamondparking.com/find-parking-locations/details/?code=WE14