Juice Wrld's Death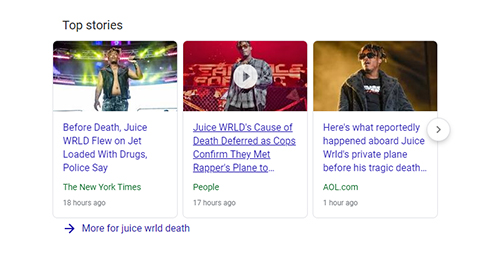 Elizabeth Schwartzhoff, Staff
January 16, 2020
On December 8, 2019, famous rapper, Jarad Anthony Higigins also known as Juice Wrld died at the young age of 21. He had a seizure at Chicago's Midway airport and later passed away at the hospital at 3:14 a.m. There has been speculation that his seizure was drug related, as he was very open with his drug addiction. He Tweeted out in July to his girlfriend, Ally Lotti, apologizing and promising to try his best to stay clean.
News broke out early that Sunday morning which shocked fans. Many fans found odd coincidences surrounding his death. One was predicting that he wasn't going to make it to 21 in his song, "Legends", which was tribute to Lil' Peep who died in 2017 and XXXTentacion who died in 2018. Another one was that in April 2017, he tweeted, "My goal is to get overly famous, shine for a couple years…then fake my death," many are hoping for the latter.
"I think that his death was very tragic and abrupt and it scared a lot of people out of doing all these hard drugs. I think that this is a terrible thing to happen to anyone, but I think there is many learning opportunities. I have already seen many people in the music industry saying they are dropping all drugs for good. Juice Wrld was personally my favorite artist because I could relate to him so much and he was so talented. I'm glad I got to see him perform live before all of this," Ryan Travis said.
A couple weeks ago, on TikTok, the #LucidDreamsChallenge blew up which showed users pretending to have seizures. Here you can see the types of videos: https://www.youtube.com/watch?time_continue=2&v=VXuxUX1H_PE&feature=emb_title. Fans recognized this and found it very chilling since he died that way. Celebrities have spoken out on Juice Wrld's death offering their condolences and heavy hearts such as Lil Nas X, Denzel Curry, Action Bronson, Lil Yachty, Camila Cabello, Ellie Goulding and many more. Juice Wrld was a very popular rapper among teens and many students here listened to him.
"He was changing the rap game with his style and it sucks to see a young legend gone so soon. My favorite songs were Used to, Toxic Humans, Legends, and Righteous," Cooper Johnson said.
Following his death, "Lucid Dreams" became the most streamed song in the United States.