2022 Field Day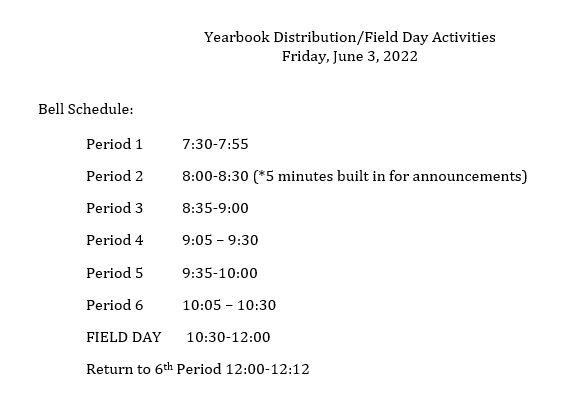 Finally, the day we have all been waiting for, field day. Field day is on June 3, and is filled with fun activities, good food, and friends. Field day is also the day that the yearbook class distributes the prized possession of that year, the 15th version of The Edge. The yearbook team had a promotion the week before and passed out cookies made by GP FCCLA with a Sharpie to sign books when they arrive.
From 10:30a.m.-12:12p.m., students are free to roam the school grounds with their friends, and gather signatures from their classmates and teachers.
This year, the German club will be selling bratwursts, DECA is selling lemonade and Red Bull, Choir is selling Italian sodas, Chinese club is selling drinkable yogurt, Impact club is selling popsicles and flowers, FCCLA is selling cake pops, FMP is selling cotton candy, Robotics is selling root beer floats. The game club is running various games, speech and debate is drawing caricatures, and BSU is fishing for prizes! You do not want to miss this!
Make sure to check out your yearbook! However, you are NOT able to pick up a yearbook unless all your fines are paid at the bookkeepers office. If you have not yet bought a yearbook, you may buy one at the bookkeepers office for $75. Only 100 left for sale.
Yearbook Distribution/Field Day Activities
Friday, June 3, 2022
Bell Schedule:
Period 1          7:30-7:55
Period 2          8:00-8:30 (*5 minutes built in for announcements)
Period 3          8:35-9:00
Period 4          9:05 – 9:30
Period 5          9:35-10:00
Period 6          10:05 – 10:30
Field Day/Lunch: 10:30-12:00
Yearbook Distribution: Location: Aerobics/Mat Room
Seniors – 10:30 – 10:40
Juniors – 10:40 – 10:50
Sophomores – 10:50 – 11:00
Freshmen – 11:00 – 11:10
Period 6          12:00-12:12   6th Period Check In
Baseball Toss – Bucket Challenge
FREE.  Students will get two throws at the target.  If they hit the target, the teacher will receive a bucket of water over the head.
10:40-10:46         Mrs. McPeek                                        11:36-11:42          Mrs. Franklin
10:47-10:53         Mrs. Celix                                             11:43-11:49          Mr. Krienen
10:54-11:00         Mr. Johnson                                          11:50-11:56         Mr. West
11:01-11:07         Mr. Chertok
11:08-11:14         Mrs. Scott
11:15-11:21         Mr. Casagrande
11:22-11:28         Mr. Koerber
11:29-11:35          Mr. Deurbrouck
Club Booths
Clubs will be fundraising during Field Day out on the Patio.  Students must purchase tickets in advance.  Tickets will be available in the Commons for purchase during Field Day and at Lunch on Thursday.  No money will be accepted at Club booths.
German Club:  Bratwurst= 2 Tickets                                               FCCLA: Cake Pops = 1 Ticket
Game Club:  Various Games= 1-3 Tickets                                      Future Medical Pro: Cotton Candy =2 Tickets
Speech and Debate:  Caricatures = 5 Tickets                                Robotics: Root beer/Orange Floats = 2 Tickets
DECA:  Grizzly Grounds- Lemonade Spritzers/Red Bull =2-3 Tickets
BSU: Fishing for Prizes = 2 Tickets                                                 Impact Club: Flowers= 1 Ticket/Popsicles=1 Ticket
Choir Club:  Italian Sodas=3 Tickets/Popcorn= 1 Ticket
Chinese Club:  Drinkable Yogurt = 1 Ticket