Large Housing Development Going in Behind Glacier Peak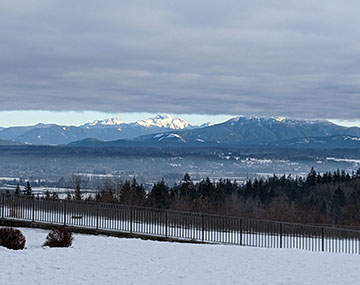 Our dead street, Grizzly Way that ends at the bottom of the school property line is under review as an expansion road that connects to new construction. The new housing development, 'Eastview Village' is slated to break ground in 2023. While the project is still under final reviews, it is very likely that the new development will be under construction in the coming months. Eastview Village is going to be comprised of mostly single-family homes and townhouses and will also include about 55,000 square feet for offices, businesses, and restaurants. The project is slated to take between six to eight years of construction before it is complete.  
Road extensions will happen to 79th Avenue Southeast, which will then extend down to Cathcart Way, and to 144th Place Southeast, also known as Grizzly Way. On 114th Place Southeast, it is proposed to connect to 79th Avenue Southeast. According to the project manager, Joshua Machen, this project is definitely going to cause more traffic. "The line to get to school in the mornings is already really long. Kids are late to class because of it. I feel like this is going to be an inconvenience to people going to work and for the kids trying to get to school on time." Keelie Sullivan said. 
 With the 3,328 proposed parking spaces, there may be a few open to help students. The houses and townhouses are expected to each have a two car garage, there are also supposed to be  3,328 additional parking spaces. One of the zones that is going to have some businesses and restaurants is supposed to be right next to Little Cedars Elementary. There will be large sidewalks,  five feet across, to make sure people are easily able to walk around. The business properties will be 30 feet away from the school at a minimum. The school day may be inconvenienced by noise from construction, which will take place in 12 phases.  
Since lots of the area being used for the project is wooded, there will be significant damages to the ecosystem. It will take at least ten years for the ecosystem to recover, 16,796 feet of wetlands will be damaged. However, there are plans in place to help the recovery process. For example, some of the invasive species in the area will be removed and replaced with native shrubs and trees.  
Eastview Village requires many plans and permits that are still undergoing review, so some details might change. There will also be a Public Hearing, once the project has been fully reviewed by Planning and Development Services (PDS). Most hearings can take place in-person and over Zoom, the date for the hearing about Eastview Village has still not been decided. Anybody can provide comments at the Public Hearing. The Snohomish County Hearing Examiner will be the one to ultimately make a decision about the project. 
More information can be found at https://snohomishcountywa.gov/6121/Eastview-Village.