The Super Mario Bros Movie release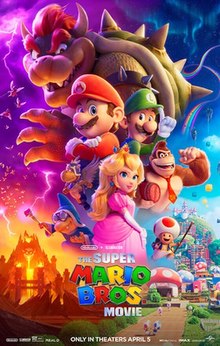 On April 5th, The Super Mario Bros. animated movie will be released. The Super Mario Bros. movie is a fantasy, action, comedy, and adventure themed movie based off of the Mario video game franchise by Nintendo, in which the first installment in the series was originally released on September 13th, 1985.
The teaser trailer for the movie was released live in an Nintendo Direct presentation on October 6th, 2022. The first official showing of the trailer to the general public was during the football championship game between the San Francisco 49ers and Philadelphia Eagles. This will be Nintendo's third film adaption to the previous film Super Mario Bros. :The Great Mission to Rescue Princess Peach which came out in 1986 and the live-action film Super Mario Bros in 1993. Production started for this movie in 2020 and the cast was publicly announced in September 2021.
The release date of the last and final  Super Mario Bros movie trailer was released March 9th at 5pm ET. In the final trailer, the audience sees Luigi taken hostage by Bowser, who is leading his army of Goombas, Koopas, and mushrooms on their way to destroy the whole mushroom kingdom. The trailer also features Mario on his way trying to rescue his brother, helping Princess Peach protect the whole world, and taking a trip with everyone down rainbow road.
The Super Mario Bros. movie is directed by Aaron Horvath and Michael Jelenic, and the cast features Chris Pratt as the voice of Mario, Anya Taylor-Joy as the voice of Princess Peach, Charlie Day as the voice of Luigi, Jack Black as the voice of Bowser, Keegan-Michael Key as the voice of Toad, and Seth Rogen as the voice of Donkey Kong. Additional characters include Fred Armisen as the voice of Cranky Kong, Sebastian Maniscalco as the voice of Foreman Spike, Kevin Michael Richardson as the voice of Kamek, and Khary Payton as the voice of the Penguin King.
The Super Mario Bros. Movie is scheduled to be released in theaters to the general public by Universal Pictures in the United States on April 5, 2023, then in Japan on April 28th, in both regular formats and also IMAX 2D and 3D.