Taylor Swift's, "Midnights," album review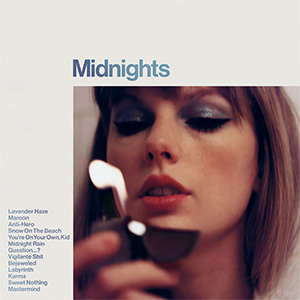 Taylor Swift's newest album "Midnights" dropped October 21, just like the title noted, at midnight (9p.m. PST). It features 13 original songs (and seven extras on the 3 a.m. tracks) and is the first all new album since "Evermore," Released on December 11, 2020. 
Since her last album she rereleased new versions of old albums, Fearless (Taylor's Version) and, Red (Taylor's Version). Fans were anticipating another unheard album as it had been nearly two years since all new tracks. Highlights from the 13 tracks on Midnights are, "Anti-Hero", "You're on Your Own, Kid", "Vigilante Sh*t", and, "Mastermind".  
To build suspense, she posted a series of videos titled "Midnights Mayhem With Me." She made these in the style of a game show involving her spinning a Bingo ball cage and announcing a song title from her new album. This series started September 21. She continued with a new video every Monday, Wednesday and Friday until October 6 when she disclosed the title, and October 7 when she posted songs titles at different times throughout the day. 
This album has rhythms similar to the mix of Red (Taylor's Version)'s "The Very First Night," and Reputation's "I Did Something Bad" in that the style has both energetic songs with themes of love and sadness as well as dark vengeful songs. The lyrics are personal, and each song uses many similes and metaphors such as, "I laid the groundwork and then just like clockwork, the dominoes cascaded in line what if I told you I'm a mastermind," from the final track Mastermind.  
 This album's themes differ from her earlier work. The darkest lyrics accompany the most spirited beats, or the traditional painful sounds. Her songs covered such a variety of emotions. She had songs about falling in love and out of it, she had songs about revenge, and she had songs about her own internal struggle. With the diversity of topics in this album, everyone had a chance to relate to the words with what they're going through.  
The phrase, "Meet me at Midnight," was a reoccurring theme with both the albums merchandise that featured the phrase, and herself who repeated it in announcements and songs.  One of the items for sale in her merch shop is a clock showcasing four panels of Taylor Swift, with the words repeated once again. Also reappearing is the image of the clock. She released five different versions of her album on vinyl, four of which completed a clock design.  Moonstone Blue vinyl, the Blood Moon vinyl, the Mahogany vinyl, and the Jade Green vinyl were the four albums that came together to form the clock. Both the phrase and the clock ideas tie into the name Midnights and connect that concept. 
"Midnights tells the stories of thirteen sleepless nights scattered throughout my life. I hope you like it and, wherever you are, you'll meet me at midnight," Swift said in her announcement to Apple Music.  Fans were ready to meet her at midnight, but the responses were quite varied. Some fans announced it as her best album, and some wished they hadn't listened.  
"I really like the song Would've, Could've, Should've, I feel like her lyrics were really heart-wrenching and heart breaking and I thought that it could be relatable to a lot of people," Ellie Paul said.