Everything, Everything is EVERYTHING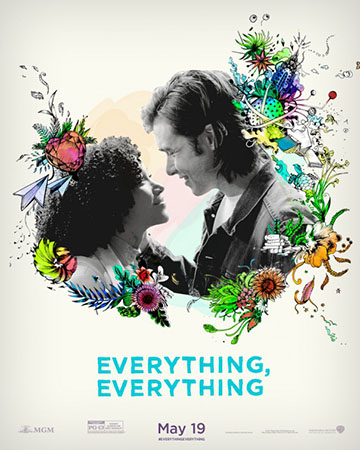 Hang on for a minute...we're trying to find some more stories you might like.
Everything, Everything, a film that will sweep the nation on Friday, May 19, is a must-see movie for anyone who felt the Fault In Our Stars was lacking the happy ending it deserved. Directed by Stella Meghie, the modern romance incorporates difficulties of any romance dealing with an illness, while keeping a light and playful mood. The film style and soundtrack fit the timeline of the movie perfectly; with fast-paced frames, vibrant and modern tracks that portrayed the characters emotions in time with the plot.
Maddy (Amandla Stenberg), and Olly (Nick Robinson) embark on an unconventional whirlwind romance, mostly by way of texting and phone calls. Maddy has SCID, an autoimmune disease where her body cannot fight infection.  So, basically, she is allergic to everything, and has not left her house in over 17 years. Her entire life plays out within the confines of her sterile home, where she is safe from bacteria and infection. She may be safe from everything, but it soon becomes clear that being safe is not living. Olly, the brooding, shaggy-haired New York-native soon opens Maddy's world to adventure, love and everything that the world has to offer when he moves in next door.
All through the film, we expected something terrible to go wrong, and while it had its heart wrenching moments, the story overall was lighthearted; it kept viewers hopeful for the future of Maddy and Olly as a couple. Overall, Everything, Everything is a strong film, capable of moving even the toughest viewers to tears through its raw emotion and candor.