Sasquatch 2017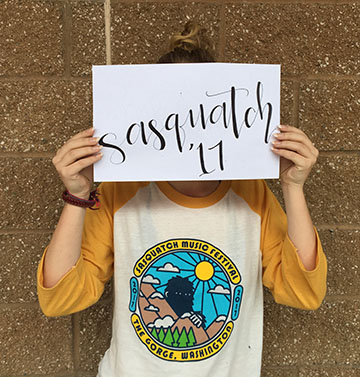 Hang on for a minute...we're trying to find some more stories you might like.
A star-studded line-up featuring headliners LCD Soundsystem, Twenty One Pilots, and Chance The Rapper drew thousands of people to Sasquatch Music Festival in the Gorge Amphitheatre on memorial day weekend of 2017. Concert goers filled the venue, either pulling up in the parking lot with a day pass, or camping in the Gorge lot all weekend with a full view of the festival.
Excited to see Twenty One Pilots, I bought a day pass for Saturday May 27, and took the two and a half hour drive down to The Gorge. As soon as my group of friends and I hopped through the severe security lines and got our tickets scanned, we grabbed some festival merchandise and headed straight towards main stage.
The setup of the festival was absolutely gorgeous and never attending a concert at The Gorge before, I was blown away by the view. You can see the entire Eastern Washington valley just behind main stage and either sit on the giant carved hill to view the concert, or join the crowd on the floor in front of the main stage, which is what my group decided to do.
Kicking off our Saturday, Rueben and the Dark was the first band to play on main stage. I had never heard of them, but they had a deep and dreamy alternative vibe that I really enjoyed. After this set ended, the heat kicked in. It went from cloudy to straight sunny and 85 degrees. With no shade to keep us safe, we had to apply sunscreen constantly.
Hours later, the band Bleachers brought such a fun environment to the main stage. You could tell lead signer Jack Antonoff absolutely loves what he does by his enthusiastic smile and passionate voice. Coming down into the crowd during their hit song, I Want To Get Better, Antonoff climbs into the crowd and grabs my hand while screaming the lyrics.
After having such a positive experience already, I didn't expect it to get even better, but it did. Twenty One Pilots, who were headlining this day of the festival, came on at 10:30 p.m. In the very front of the crowd, I had an amazing view of the show. I have seen Twenty One Pilots twice before, but this time at Sasquatch was something so special. The band surprised the crowd by playing a cover of Post Malone's Congratulations, and preforming one of their really old songs. The atmosphere was powerful and the band made the experience extremely memorable by doing many out of the box things like drumming on top of the crowd, running out on top of everyone in a giant red hamster ball, and ending their set by both drumming on the crowd to their song Trees, and blasting hundreds of thousands of pieces of red confetti out of giant cannons.
My personal favorite interactive aspect was when Tyler Joseph, lead singer of Twenty One Pilots, climbed into the front rows to sing Holding On To You. Coming down into the crowd, Joseph grabbed only my hand to help him up. After helping him up, he held it while singing this song that has impacted my life greatly. It was an experience I will truly never forget, just as the rest of Sasquatch Music Festival.