The Roxy Tour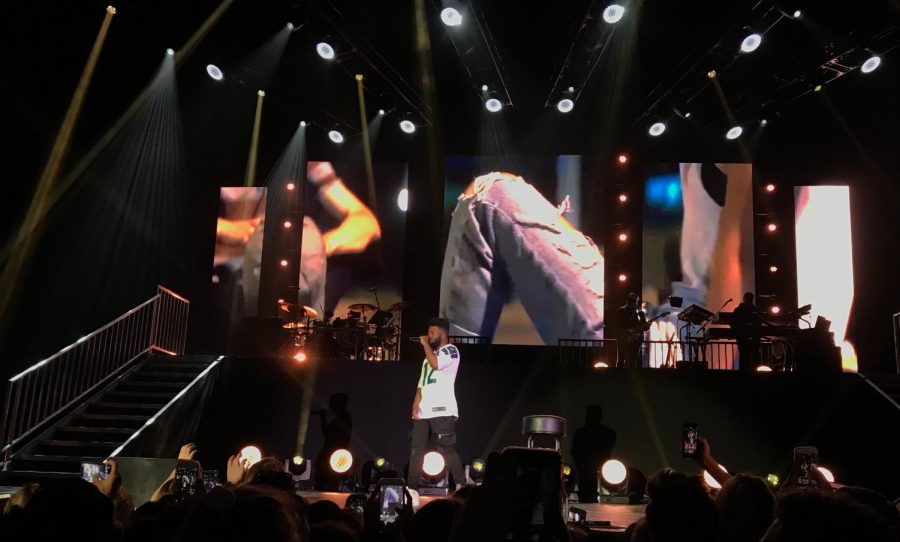 Khalid's concerts are known for his amazing vocals and iconic dance moves. His second tour, The Roxy Tour started in Portland on May 1 and he came to Seattle on Thursday May 3.
The Roxy Tour, is named after Khalid's dog that he had recently adopted and he announced that with every ticket purchased, he would give a donation to a local animal shelter because he "realized how important humane shelters are and how powerful adoption can be."
His concert opened at 8 p.m. with the band named Pretty Much.  I personally didn't know who the band was, but they had nice dance moves and their songs are really fun and catchy.
They sang about six songs and their set lasted for about 30 minutes. After they left the stage, you could feel the excitement everyone had because we all knew what was coming next…. it was the moment we had all been waiting for. The venue went from complete silence to madness in a matter of second when Khalid came out at 9:10 .
He sang "8teen" first and everyone immediately joined in and sang along with him. Some of the times the crowd went crazy was when he performed "8teen", young, dumb and broke", and his new song, "OTW".
The visuals were great and Khalid gave it his all. He looked great in his Seahawks jersey. He never stopped smiling and interacting with the crowd and everyone could tell how much he loves to be on stage. I was in the middle section in the fifth row and at one point Khalid and I made eye contact and I waved at him and he waved back and that made my night.
Khalid ended the show with "OTW" and within the blink of an eye, the lights turned on and the concert was over.
Sophomore, Maleika Fleming  talked about her experience at the Khalid concert "I waited three a half hours to stand in the third row. It was so cool and I was so close to Khalid. He's really great live and I love his music. "