Heartstopper Review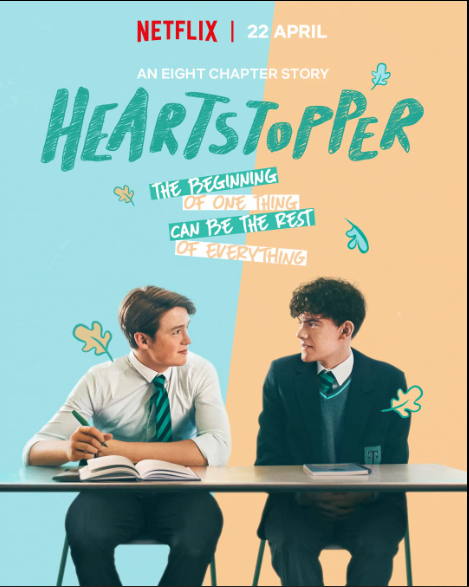 Heartstopper by author Alice Oseman has finally been adapted into a one season eight-episode Netflix original series. The web comic started in 2019 and soon grew a small fanbase, the comic shows the relationship between rugby star Nick Nelson, and introverted Charlie Spring, with topics of mental health, abusive relationships, bullying, and coming out. This show is groundbreaking for the LGBTQ+ community, creating a sappy and sometimes cringy view of Queer relationships, that often feels missed out on.  
The series feels realistic in the way the actors look nearly identical to their drawn counterparts. None the less,  the adapted mini series has some major differences from the comic. First, the addition of Imogen, a completely original character, to cutting out the entire Paris trip and the story arch that came with it.
While I understand that some changes were necessary, to include the full romance into an eight-episode show,  it still makes the pacing feel a little fast. This is especially true for having a story line surrounding coming out.  It got to the point that at times I often felt sympathy for Nick Nelson in a way I had not in the webtoon.  
Overall, the plot and characters feels relatable, going through the highs and lows of high school life and relationships, one of the reasons the show has had such a good reception for sure. As of right now, Heartstopper is still ranked #3 on the IMDb most popular TV shows list and has received a perfect score of 100% on Rotten Tomatoes. The show has become very popular due to how binge-able it is and talk of it can be overheard constantly in the hallways.  
With this number of positive reviews only one question remains, when will it be renewed for season two?