Trying New Things with Liese Gobel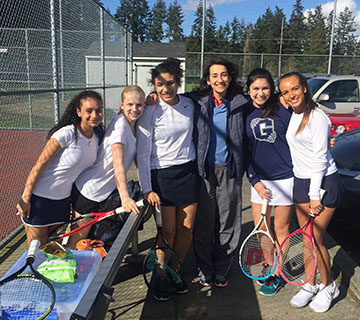 Hang on for a minute...we're trying to find some more stories you might like.
High school is all about trying new things and trying out for sports you never thought you would try out for. Coming into high school, you would never even think of doing some things, yet as time goes on, things change and one day, you are on the tennis team.
"I wanted to try out for the tennis team because I thought it would be a fun experience," Liese Gobel said.
When people try out for a sport, it can be very hard, especially if you're a freshman and it's your first time.
"I didn't get too worked up about trying out and didn't get to nervous because I was trying out for fun. If I didn't make it I knew everything would still be okay," she said.
Going into tryouts, you always have doubts, but in the end it works out for the best.
"I didn't think I was going to make the team actually. I thought I was terrible and I had never played before. I wasn't too confident," Gobel said.
Coaching is always a big part of the team. And you better like your coach, because otherwise it will be a bad season.
"I like Coach Nadine, she teaches us a lot. But also makes practice fun which is a plus," she said.
Having people on the team with you makes any sport so much better. Some of those long practices feels shorter because you have great friends on the team
"I have two best friends on the team. I like that it's something new and that you get too connect with your double partners," Gobel said.
If you are scared to try out for a sport, just go for it, you never know what will happen unless you try!