Two Schools One Family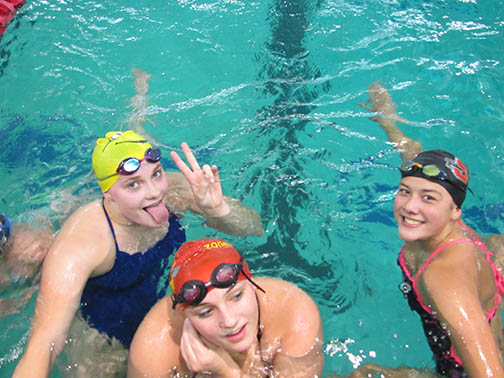 Hang on for a minute...we're trying to find some more stories you might like.
Every sports team practices independently except for the swim and dive team. Glacier Peak High School and Snohomish High School actually practice together.
"I love it; it is one of my most favorite things in the entire world because if you have just one team together you get just those girls. Instead we are getting the entire Snohomish School District instead of having rivals because we don't compete with or against each other. It's nice because it makes it a better community. We have a feeling of family and unity which are some of our core values on the team," Emma Chonzena, Snohomish High Captain said.
The two teams practice at the same time, however they compete separately. Savannah Westlund, a senior at Glacier Peak, and one of the captains likes the idea.
"I like being able to practice together and having friends from both schools. I do like having our meets separately because we can learn who we are as an individual team," Westlund said.
In past years both schools practiced and competed together. This is the first year that Snohomish and Glacier Peak are split for meets but practice together.
"I love practicing with Snohomish High School and our school together. It creates a better atmosphere for our team. I think the environment is absolutely great. I love how we get to know people from other schools. I think it's awesome we can branch out," Makenna Thuringer, Glacier Peak Captain said.
The constant support the girls give each other makes the whole team a big family.
"I absolutely love it because there are more girls to have fun with and mess around with. Having more girls makes it a better team environment because more girls bring more happiness to the team," Kaitlyn Gore said. She swims for Snohomish.
The dive teams also practice together. Jillian Reddick is the dive captain for both schools.
"I like that we practice together. I think it makes our team more unique. I like being one big family," Reddick said.