Boys Swim First Loss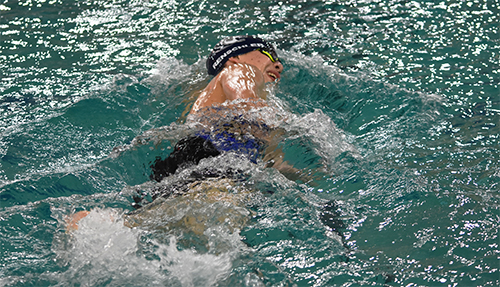 The GPHS boys swim and dive team lost their first meet of the season against Kamiak High School 58-122. Kamiak has, for most of Glacier Peak's history, been one of the hardest teams to beat in swim and dive for both for boys and girls. With many close races decided on tenths of a second, Kamiak came out on top.
On Jan 11, the team traveled to Kamiak High School for the competition. Swimmers tend to dread swimming at pools that are not the aquatic center. The pools are not as deep and are not as cold; things that generally lead to a faster time.
Many of the boys beat this ideology and achieved personal records or a time very close to it in their events.
Zach Cermak went a 22.49 in his 50 free,getting second place in the event, losing by only three hundredths of a second. He got first place in the 100 yard butterfly. Swimmers Andrew Meneses, Jack Renschler, Matthew King, and Cermak got first place in the 200 freestyle relay. Meneses, Calvin Kremer, King, and Cermak lost the 400 freestyle relay by only 2 seconds. Senior Gideon Crecelius dropped nearly two tenths of a second in his 100 yard breaststroke.
Even though the boys lost by a lot of points, the meet was close in terms of times.