Girls Wrestling Champs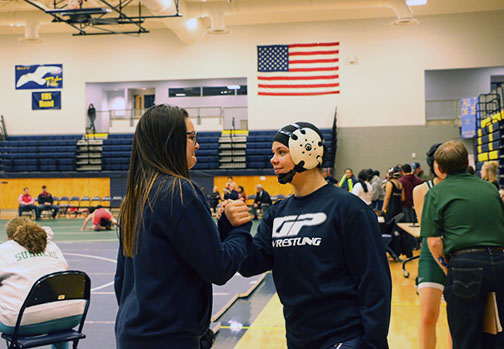 Hang on for a minute...we're trying to find some more stories you might like.
This year is the first year Glacier Peak has had a girl wrestling team. The team was started with the help of sophomores Cassy Vando and Kiley Hubby. Being the team's first year, they have made many accomplishments. Hubby also is our first girl wrestling state champion.
"Kiley Hubby is one of my best friends. Her dad gave me a pair of her little brothers old wrestling shoes. They had an old mat and Kiley's dad basically told me to put on the shoes and wrestle. That is when I fell in love with wrestling. But when GP didn't have a girls' team I became determined to make one. I asked and persuaded a lot of girls and finally got 14 to sign up. Kiley got me to wrestle and we got everyone else to," said Cassy Vando.
Most of the girls on the team it was their first-year wrestling. Two girls, Tricia Wire and Caitlin Collins, got hurt but kept their dedication to the team and became the managers. All the girls that finished the season made it to districts.
"Wrestling is a really tough sport but there is so much pride in calling yourself a wrestler. To see all your hard work pay off when you win a match and get your hand raised makes it all worth it," Vando said.
The start of this team by the students is a major accomplishment for Glacier Peak. Hopefully the team will grow over the years. Great job girls wrestling!