Track Off To A Great Start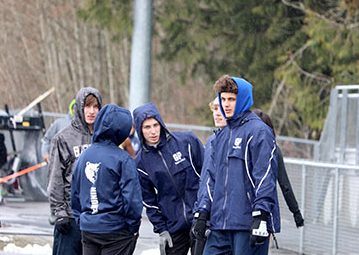 Hang on for a minute...we're trying to find some more stories you might like.
Glacier Peak has done very well this season in the first five meets they have competed in so far. The first meet being the Sno Peak Creek jamboree, the boys and the girls both won the Jamboree as well as their first league meet with Mariner. Both the girls and the guys did exceptionally well coming in second place at the Chuck Randall Relays invitational in Arlington. The boys and girls also won their second league meet versus cascade. This past week in Yakima the team overall placed third. A ton of school records and times have already been set early this season throughout these first three meets.
Girls Sprint Medley Relay (1-1-2-4) 1:57.75 – Tamia DeSchmidt, Aaliyah Collins, Haley Grambo and M. Rubino
Boys 4x800m Relay 8:20.69 – Nick Mullineux Perrault, Ethan Berg, Riley McDowell and Tyler Tanta
Boys High Jump Relay 15'6" – Elijah Crosby, Spencer Cramer and Davis Mattingly
Boys Pole Vault Relay 28"0" – Brendan Behunin, Davis Mattingly, Brennan Crowder
Girls Discus Relay 242'5" – Jessica Longstreth, Hannah Johnson, K. Opsata
Boys 4x100m Throwers Relay 51.45- Nolan Hennig, Reese Dhondt, Austin Talbot, Adam Vandewall
Girls 4x100m Throwers Relay 1:06.40- B. Bauman, Sydney Gowen, J. Rosario Mendez, T. Fausey
Sophomore Boys Pole Vault 10'6" – Brett Redman
Girls Discus Relay (244'3"): J. Longstreth, H. Johnson, K. Opsata
Boys Throwers Relay (51.08): N. Downey, C. Fountain, E. Johnson, N. Forman
Junior Boys 3200m (9:24.78): Riley McDowell
Freshmen Girls Discus (83'5"): Naomi Fifita
Sophomore Boys HJ (5'8"): Elijah Crosby
Stay tuned for the rest of the track season as they are just reaching the heart of the season when PR's are set and more school records will be broken. This Thursday, Mar 29. is a home meet at Veterans Memorial Stadium versus Cascade. Saturday, Mar 31 is the Don Holder Relays in Yakima at Eisenhower High School. These are the only two meets until after spring break so go support your Grizzlies.