Girls Lacrosse Wins their First Playoff Game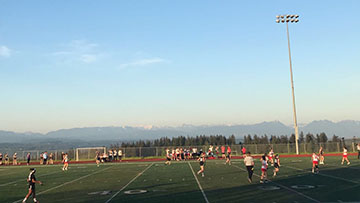 Hang on for a minute...we're trying to find some more stories you might like.
The varsity girls' Snohomish Lacrosse team played their first playoff game of the year on Monday, May 7 against Everett. They won decisively by a score of 13-3, after just beating Everett the Friday before by a score of 11-5. The game marked the 11th win for the girls this season, and senior captain Aenne Thom described the feeling at the end of the game as "exciting but bittersweet at the same time."
"Considering all the adversity that our team has faced this year, from a new coaching staff to our players getting injured, I'm really proud of my team and how we're doing," Thom said.
The playoffs begin next. "I'm really excited to start so strong in our bracket, but at the same time it's hard going into the playoffs of my senior season knowing that any game could be my last. We have a huge target on our backs right now, but that pushes us to do our best and brings us closer together.  We put in so much work and I'm so excited and ready to see where it takes us."
Senior Annie Ferguson echoed the idea that the stakes are higher knowing that any game in the playoffs could be her last. "The game was really exciting to play in considering it was the first playoff game of the season and we played super well," Ferguson said. "It's definitely more important to me now because this year is my last chance and I want to do the best that I can do."
The girls also won their game on Wednesday night, May 9 against Lakeside by a score of 11-4. Their next game is on Tuesday, May 15.