Girls Golf Season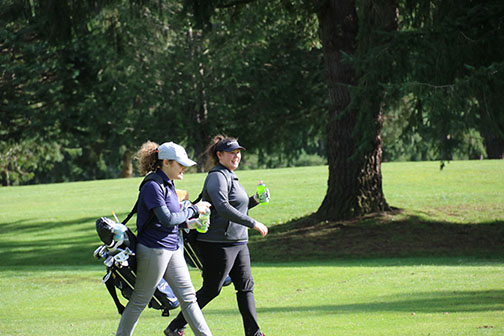 Girls golf is becoming more popular each year. There are still many girls golf scholarships left unassigned because there are fewer in the sport overall. This season,, junior varsity took second place at the JV Championship and overall, the teams took 1st and 2nd place at many of their matches. The varsity girls each shot a 60 or below to qualify for districts. Varsity played their last match before districts on May 17, 2018.
 At districts, Varsity finished 3rd overall. Junior Eden Iazeolla and sophomores Erica Holtgeerts and Mia Tukey each played well enough to make it to the 2nd day of districts. Even though no players on the team made it to state, the only senior on the team, Allisa Szalda finished 11th place. Szalda was in a state alternate position by shooting a 97 on day one of districts and a 96 on day two.
"A couple bad holes prevented her from make the cut to state, but I was proud of how she did not give up on the final day of districts. Many players would have given up, but she played her best golf of the season the last four holes of districts, 2 under par for the final 4 holes and gave herself a chance to be in the running for state," Coach May said. 
Many girls are the team this year were young players. There was only one senior and three freshmen that are just getting into golf. The team has improved a lot this season and played their best match in their final league match. They placed 2nd out of eight other teams and then also beat their rival Lake Stevens. "I really enjoyed this golf season and being able to become a stronger player and learning the game of golf.  And, not only getting closer with the girls on my team I also got to make friends with players from other schools. I am also thankful for the opportunity to play in some varsity matches in my first season of GP golf,"  freshman Kennedy Chin said. 
The team progressed each week and scores moved lower after almost every match. "I was very happy with how the team progressed on the golf course, but I was even more proud of how they came together as a team during the 2nd half of the season. They are a great group of young ladies who made coaching golf a lot of fun this year," May said.