Boy's Soccer Season Recap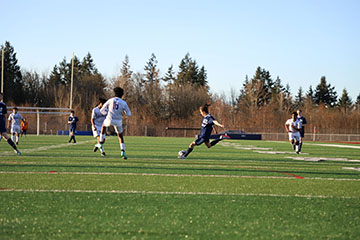 The boys' Varsity and JV teams have had an interesting season this spring, having almost opposite season records. Both of this year's Varsity and JV team are pretty young, with 12 underclassmen on varsity, and  all-underclassmen on the JV team. Despite that, varsity's season record this year has been impressive, while JV is struggling through a rebuilding season.
Varsity has had a mostly winning season, apart from their first game of the season against Snohomish (0-1 loss), their close game against Mariner (1-2 loss), and their ongoing struggle against Kamiak (0-2 loss, 1-4 loss). Other than that, the team has been working together very well and has eight  wins (and 1 tie against Lake Stevens).
They have been competing hard to be the dominant team on the field, beating North Creek 4-1, and Jackson  by a whopping 6-1. The rest of their games have been very close, almost all of their wins with a one goal spread.
JV, on the other hand, has struggled. They won their first game 1-0 against Snohomish High School, but they were unable to get any wins on the board in their next 10 games. Despite having a 1-9-1 record, JV has had some close games. Their losses to Mariner, North Creek, and Lynwood were all a one-goal game, and they even tied Jackson 2-2. When asked about how the season is going, "I think the season started off really badly. We started off with a convincing win, but then it all went downhill from there. But, I think we've improved from the beginning of the season. I think hopefully, with the players coming back next year, we can keep improving and have a better season," starting forward Tate Swetman, said.