More Than a Day Off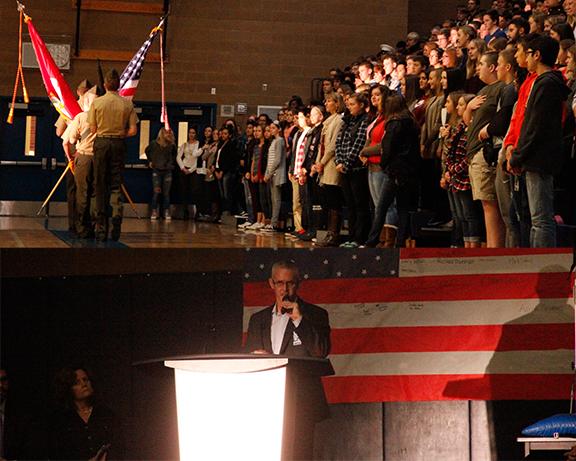 Many students see Veterans Day as just a day off from school, but to some students it's a day to recognize the military's work and dedication to our country. On Wednesday, November 11th, students honored their loved ones and thanked them for the time they spent serving. Annie Ferguson,10 and her dad spent the day together.
"My dad and I went to dinner at Red Robin, and I told him how much I appreciated him," Ferguson said.  "The veterans that serve our country do so much work for us and a lot of people don't take time in their day to truly appreciate them."
Appreciation is shown in many ways according to teacher Nick Bender. He spoke about his military experience as a Marine in the assembly Monday. He talked about ways we can honor Veterans by removing our hats when the flag is present, voting as soon as we are of age, specifically for candidates who support the Veteran's hospitals and our troops serving.
"The people who served our nation are the real reason why we have freedom today. Without them we wouldn't be able to do all the things we want to do," Lilly Christianson said.
She visited her Grandfather's grave at the Everett Cemetery on Wednesday. Her grandfather was a  Marine. Christianson said it was a hard and emotional day for her as well as many others. "Each year we need to remember and give thanks to everyone who has served or is still serving," she said.