A Good Day to Save Lives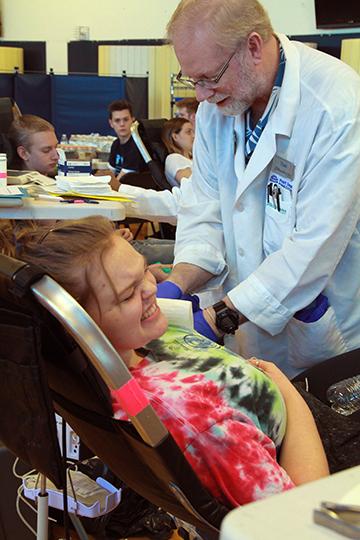 Tuesday, many of us gave blood for the first time. It was Kayla Wentland's first time giving blood. "I was really nervous and I couldn't look at the needle. At first they tried to get blood from my left arm vein but nothing would come out. Next they tried my right vein and it worked and I watched my blood begin to fill the pouch," she said.
Some students aren't able to give blood because they are underweight, dehydrated, or anemic. An anemic person is when they lack enough healthy red blood cells in their body. One of the reason why students don't give blood is because they are queasy at the sight of blood and are concerned with passing out in front of others.
"I'm not able to give blood because when I see it, I'll faint right away, I've passed out 15 times in the past because I saw blood," sophomore Korynn Baird said.
The purpose for the blood drive is to help save lives of others. There were 105 students who donated. When blood is donated, it goes to local hospitals. According the American Red Cross, the blood donated is mainly used for cancer patients, new born babies who may have a diseases or to others who are in urgent need of it. Every two seconds someone in the US needs blood. If you didn't get a chance to donate the local donation center is 2703 Oakes Avenue in Everett, Washington and is open daily.