Learning New Languages
Speaking a new language can be difficult but fun, and students at GP know all about it.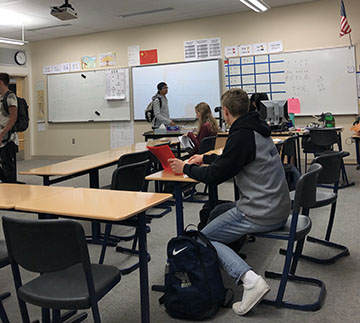 Hang on for a minute...we're trying to find some more stories you might like.
Our school offers four language class choices; Chinese, French, German, and Spanish. For the class of 2021 and beyond it is now a high school graduation requirement to have two world language credits. For the class of 2016-2020 it is not a requirement. This year there is no French 1 class offered, as not enough students signed up to take this class. There are two Chinese 1 classes, two German 1 classes, and several more Spanish 1 classes.
Learning a completely new way of speaking is what these students have dedicated their school time to, and it can be a lot of work.
"I'm taking German 1 and I hate it. It's really hard. It's a lot of effort. German is also really confusing," Ella Renschler said.
Some  students like Angela Offin took a language class to connect with their family roots.
"My family is German, and my parents speak it, so that motivated me to take it in high school. It's really interesting because you get to learn a whole other way people speak in the world," Offin says.
Spanish is the most popular choice, and is one of the only classes you can take all four years of high school.
"It's challenging at times but in the end, I know that if I ever go to Mexico I'll be happy," Gracie Pitts said.
Pitts also says that bringing a positive attitude into her class helps her retain the information being taught that day in class.
Students in their third and fourth year of taking a language are still learning every day such as Grant Dormann who is junior in his third year of Spanish.
"I would tell someone who's just beginning to try to learn the vocabulary because it really does come in handy when you continue to learn the language. If you study, you will succeed," Dormann said.