Simple DIY Holiday Gifts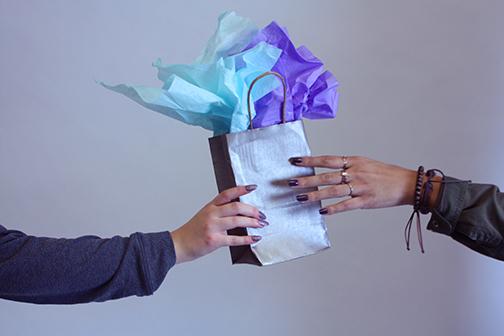 Stuck on what to get someone for Christmas? Here are 10 easy DIY gifts they will definitely love!
Movie Night Bundle: gather up some of their favorite movies, a bag of popcorn and a box of candy to make a fun, cute and inexpensive package to create the perfect movie night!
Pamper Kit: with some bath bombs, lotion and fuzzy socks you can create a pamper-night-in-a-jar that is perfect for a night in!
Holiday Hot Cocoa in a Jar: add hot chocolate mix, candy canes and marshmallows to a mason jar and hand over a delicious, easy to make treat!
Box of Sunshine: grab all things yellow (Juicy Fruit gum, yellow fuzzy socks, butterfingers, etc.) and put them in a yellow box to hand someone a box full of sunshine to lift their spirits on our rainy Seattle day.
Finals Survival Kit: pencils, candy, gum, water and some Tylenol are all you need to complete this finals survival kit! This is the perfect gift since finals are just around the corner.
Bordem Buster Jar: fill a mason jar up with ideas to do when one is bored. Include a ten dollar bill in the mix, and they will have a surprise waiting for them!
Gift Cards: don't know if they'd like a Pamper Kit or Box of Sunshine? Get them a gift card to their favorite store so they can decide on a gift you know they'll love! Make a cute sleeve to slip the card in, or include it with a jar of their favorite candy!
Beauty Kit: include a bottle of nail polish, Sephora gift card and some lipgloss to make a beauty kit that all girls will love!
All Things Coffee: get a coffee cup from Starbucks and fill it with a gift card, chocolate covered coffee beans and confetti to give to your favorite coffee lover!
New Years Party In A Hat: grab a New Year's Eve party hat and fill it with beads, party blowers, noise makers, plastic champagne glasses and miniature bottles of sparkling cider so they can ring in the New Year in style!