Great Winter Recipes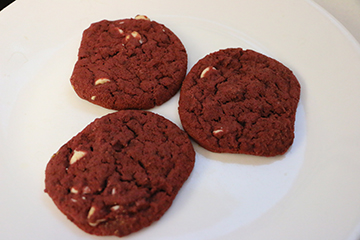 Hang on for a minute...we're trying to find some more stories you might like.
The winter months are here and that means baking and cooking… a lot. To get to know some of our favorite teachers a little bit better, we asked them for their favorite holiday recipes.
Mrs. Mesman-Davis, better known as MD's favorite recipe is Russian Tea Cakes.
Russian Tea Cakes
Ingredients
1 cup-butter or margarine, softened
1/2 cup powdered sugar
1 teaspoon vanilla
2  1/4 cups all-purpose flour
3/4 cups finely chopped nuts
1/4 teaspoon salt
more powdered sugar
Directions
Heat oven to 400 degrees F
Mix butter, 1/2 cup powdered sugar and the vanilla in large bowl. Stir in flour, nuts, and salt until dough holds together.
Shape dough into 1-inch balls. Place about 1 inch apart on ungreased cookie sheet.
Bake 10 to 12 minutes or until set but not brown. Remove from cookie sheet. Cool slightly on wire rack.
Roll warm cookies in excess powdered sugar; cool on wire rack. Roll in powdered sugar again.
(Total time will vary; cook or bake time is per batch)
Mr. Mossburg's family makes a Smoked Salmon Dip this time of year.
Smoked Salmon Dip
Ingredients
8 ounces cream cheese at room temperature
2 cup sour cream
1 tablespoon freshly squeezed lemon juice
1 tablespoon minced fresh dill
1 teaspoon prepared horseradish
1/2 teaspoon kosher salt
1/4 teaspoon freshly ground black pepper
Directions
Cream the cheese in an electric mixer fitted with a paddle attachment until just smooth. Add the sour cream, lemon juice, dill, horseradish, salt and pepper, and mix. Add the smoked salmon and mix well. Chill and serve with crudites and/or cracker.
Have a great winter!