Off Campus Fun
learning doesn't always have to take place in the classroom.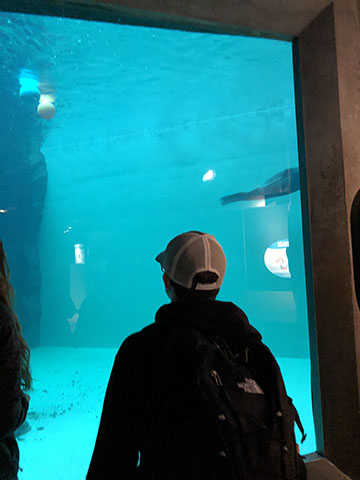 Hang on for a minute...we're trying to find some more stories you might like.
Mrs. Ingersoll's marine biology class recently went on a field trip to the Seattle Aquarium for a full day of educational hands-on fun.  The students got the rare opportunity of seeing the animals they are learning about up close and personal.
"It's rare that students really get to experience what they learn in a subject like marine biology, so it was pretty great watching them look at the animals in the new light of what they had learned," said Mrs. Ingersoll.
The group of students went through the whole aquarium, and soaked up as much information as they could in the limited amount of time they had.  "We all got to see the animals we wanted to, and that was pretty great.  Nobody was bored," said Hannah Varghese.
The marine biology class had most recently been studying shrimp, and they made posters to go up around the halls.  After the aquarium, Hannah said "I really understood what we were learning better.  Getting to see it up close really helps, instead of just seeing pictures and diagrams."
Back in elementary and middle school, field trips were mainly just going out as a class to see a movie, or visiting a fun camp.  They gave the students a break, but didn't always have benefits other than that.  In high school, there is always a reason for leaving the campus.  Field trips these days are privileges, and students know that and make the most of them when they get the chance.
Field trips are not something that are very common in high school, but when they do happen, it isn't always just for fun.  Students learn from being able to experience things in person.  They get to see and do what they learn, and the marine biology trip is just an example.  The band students get to go on a trip to an amusement park later in the year to perform in a parade.
Field trips like this give them something fun, but something to do that helps them improve themselves.
Sometimes students must earn their field trips, like in DECA.  They have to be the top students in a competition to be able to go to state.  Field trips like this are just as educational, and the students also get to have fun and compete against other students.
"It's a big goal of mine to get to state one day.  Not only for the competition, but for the fun of the trip too," said a freshman DECA student, Jessica Tshilombo.
School can be monotonous at times, and field trips really give a nice break in the old routine.