A "Strawberry Super Moon" is taking place on June 24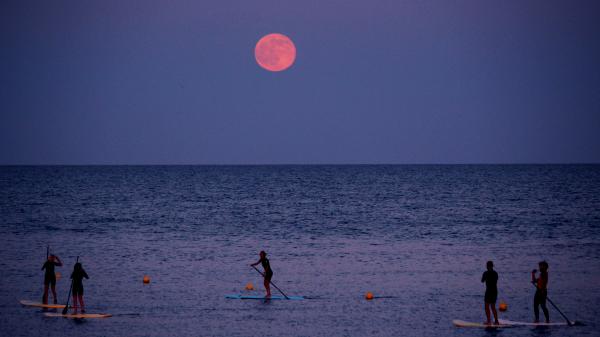 What is a strawberry super moon?
June's full moon is called the 'Strawberry Moon,' and the name originally came from native tribes in North America. They associated the rising moon with the blossoming of berries. Specifically, strawberries, which are native to North America. In Europe, before the introduction of strawberries in the 1600s, the moon was called the 'Rose Moon' signaling the blossoming of roses. Astrologers say this full moon is a time to dive deep into personal growth and focus on healing. The moon is not just a full moon, it's a super moon, meaning it's at its closest point to earth during its monthly orbit.
How can I watch the Super moon?
The moon will rise shortly after sunset on June 24, 2021, in the Southeast. It will begin rising at 6:00 p.m. PT and reach its height at 8:31 p.m. Being a super moon, it will have a magnified look. Contrary to its name, the moon will also have a golden hue. Most importantly, remember to watch the time, the moon will only be visible 20 mins after sunset.
Need a reason to celebrate; try these strawberry recipes to make your super moon even more spectacular!
Strawberry cake:
https://www.onceuponachef.com/recipes/summer-strawberry-cake.html
Spicy strawberry salsa:
https://www.allrecipes.com/recipe/218473/spicy-strawberry-kiwi-peach-salsa/
Strawberry iced tea.
https://www.fivehearthome.com/strawberry-iced-tea-recipe/