Spider-Man: Across the Spider-Verse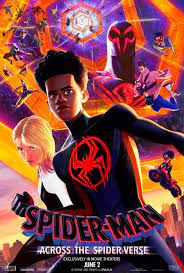 SPOILERS AHEAD
On June 2nd, Marvels new movie Spider-Man: Across the Spider-Verse is released. It's a jam-packed action-adventure movie that many fans are excited for the movie is set to run for 120 minutes, this is the second movie for the Spider-Verse trilogy. They plan to come out with the third movie in the trilogy in 2024, Spider-Man: Beyond the Spider-Verse. This story plans on emphasizing on Miles Morales new adventures. Many people have been waiting for the sequel of the 2018 Spider-Man: Into the Spider-Verse and thankfully people don't have to wait much longer.
Marvel claims this is the biggest scoop into the multiverse that they have done, beating Spider-Man: No Way Home. With the multiverse the movie takes place in 6 different universes, its more than in other Marvel movies that deal with the multiverse. Once they finished making Across the Spider-Verse Sony decided to spit it into two different movies, Beyond the Spider-Verse, and Into the Spider-Verse. Many people were disappointed with the way Across the Spider-Verse ended with the to be continued ending.
We got to see Miles Morales return to our big screens. We saw Miles reunited with his friend from a different universe Gwen Stacy on their journey through the multiverse and see Miles be able to handle both his lives as a secret. Miles is faced with a new threat, The Spot who he accidentally created by the explosion of the super-collider, which would've taken place during the first movie.
Across the Spider verse is being compared to the Empire Strikes Back from Star Wars. Coming back making this film is Hailee Steinfeld as Gwen Stacy and Shameik Moore as Miles Morales, they are coming back as their chaotic and funny duo. Many new actors and actresses are coming to this movie as for when Miles is faced with all the Spider People across the Spider Verse. In Across the Spider-Verse Oscar Isaac will be appearing as Miguel O'Hara.