Just As Tough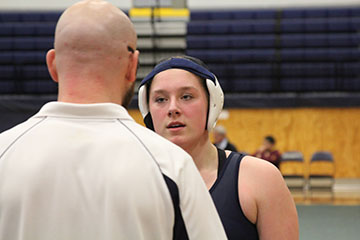 Hang on for a minute...we're trying to find some more stories you might like.
Brand new to our school, wrestling introduces an all-girls team which consists of 11 girls. This team will be practicing five days a week and competing in matches independently from the boys. In the past any girl who has participated in wrestling is placed alongside the boys.
Kelsie Thuringer who is a sophomore is now in her first year of wrestling. "I love wrestling. At first it was a little intimidating with how many guys were on the team vs. how many girls were on the team. Now I feel like we have warmed up to each other more and the atmosphere is pretty good. I am happy that there is now a guys and girls team because I feel like it helps us get to know each other better. Having it be girls and guys really helps because we can get to know our group and then we can get to know the other team as a group," Thuringer said.
Kate Jenkins who is a Freshman decided to join wrestling this year. "I think it is cool, but we are definitely not split because I still feel like we are one big family. I think It's nice that we have a girls' team because the girls get more opportunity's. I like wrestling a lot unfortunately I haven't been able to wrestle a lot because my knee is hurt but I love the environment," Jenkins said.
The team seems to be looking forward to a great season and loving it so far.