Things To Do In Seattle During Spring Break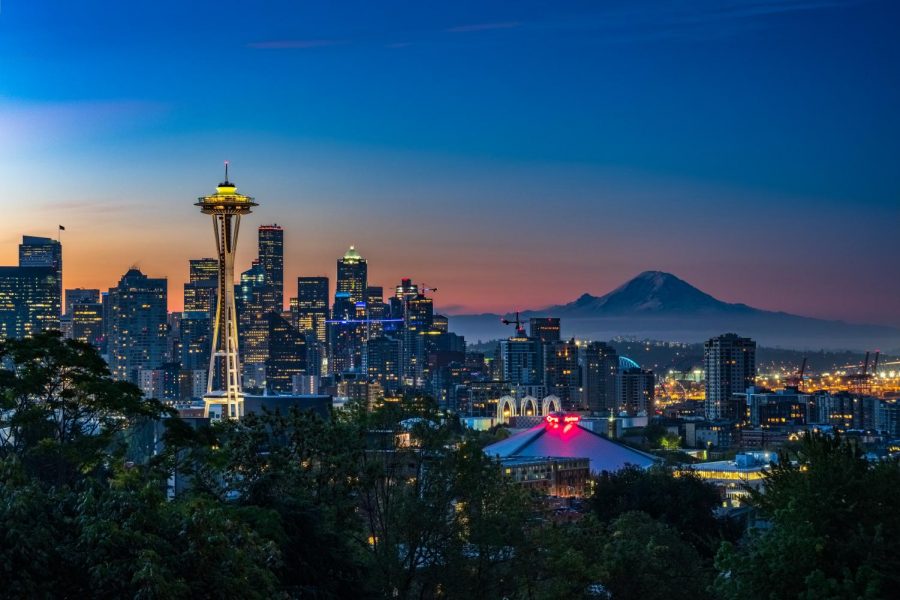 As we all know, spring break is coming up. A month away, it's approaching faster than we think. Now is the perfect time to start making plans. If you're looking for a fun spring break, without the cost of traveling, here are 10, local things to during spring break. Ballard Farmers Market: Open every Sunday from 10AM-3PM, Ballard Farmers Market is a great place to spend on a nice spring day. This market offers an assortment of flowers and food that you see made in front of you. With local sellers of foods, baked goods, self care items, and much more you have a very large selection of things to look at. A booth in the market fills the air with the scent of its sweet dough.  It could only be the scent of fresh made doughnuts. You can see the doughnuts being fried right in front of you and they are given to you warm. You can choose between a topping of powdered or cinnamon sugar. The Ballard Farmers Market is the perfect place to walk through on a sunny, spring day, however be prepared to eat a lot of good, fresh, and local food.
Kubota Gardens: Located in South Seattle, the Kobuta Gardens combine the Northwest greenery with the traditional Japanese garden concepts. This 20-acre plot of land offers free entry and a beautiful walk through streams, waterfalls, ponds, and bridges. It is a calm place to spend time with friends, for photoshoots, or just to meditate and walk through the garden.
Seattle Aquarium: The Seattle Aquarium would be a great place to visit on a sunny or rainy day in Seattle. Located on Pier 59 on Elliot Bay waterfront, the aquarium offers a great view and a variety of shows and events that go on throughout the day. These events include meeting the marine animals, meeting an octopus, a dive show, and a members only movie night. The Seattle Aquarium would be a great place to spend the day with all its events to keep you busy and interested.
Seattle International Film Festival: The Seattle International Film Festival offers a variety of movies to go and see. Whether you are going by yourself, with friends, or for a date night, the Seattle International Film Festival is the way to go. The Festival shows cinema that you might have seen in the theater, such as the Oscar award-winning film Parasite, but it also shows cinema that are less familiar. With an array of films handpicked by SIFF's movie experts and a variety to choose from, the Seattle International Film Festival is a great way to spend a night in Seattle.
Seattle Selfie Museum: The newfound fame of the Seattle Selfie Museum boosted its popularity among teens. This museum offers different rooms that you can take pictures in. With rooms of flower walls, a ball pit, and much more themed rooms to take your selfies and Instagram pictures. This museum began as a pop-up, but received so much love from our city that it decided to stay permanently. With the new museum taking a resting spot in Seattle, it makes it a great place to take your friends, your date, or yourself for spring break.
Seattle Museum of Pop Culture: The Seattle Museum of Pop Culture has always been a big hit in Seattle. With updating the museum with new exhibits, it keeps its museum fresh and fun. It offers new exhibitions like Minecraft, Nirvana, Tattoo Culture, a Beats Lab, and much more. If you are interested into movie memorabilia, this museum is perfect for you. Offering walk-through exhibits of horror, sci-fi, and fantasy movies with props from the different films. This museum keeps up with the trends and makes for a fun, different, and exciting museum visit.
Kerry Park: Looking for a great picnic spot on a nice spring day? Or are you looking for a Instagram worthy picture spot? Kerry Park is the answer to both of those questions. Set on a hill overlooking the city of Seattle. This makes for an awesome spot to take pictures for social media or just for fun. When looking over the beautiful view of Seattle, it makes for a lovely brunch or lunch with friends. If you are looking for a fun outing, Kerry Park is
Bellevue Zip Tour: The Bellevue Zip Tour is one of Washington's many hidden treats. With two short hikes, seven zip lines, and two suspension bridges, the Bellevue Zip Tour is a great way to spend a spring day. The course sit is located in Eastgate Park, sitting ten miles east of Seattle. Not only does it have a zip line tour, it also has a challenge course. The zip tour offers you a journey through a forest of Douglas Firs and a view of the North Cascade Mountains. On a bright, spring day, the zip tour would be an awesome adventure to take.
Kinokuniya Bookstore: If you are a paper and stationary lover, then the Kinokuniya Bookstore is the great way to go. Something a little more low-key amid the rush of spring break. Sharing a space withe the Asian grocery store Uwajimaya, the bookstore offers a variety of stationary supplies. With an array of well-known brands, such as Pilot Hi-Tec C, the Kinokuniya Bookstore is an awesome place to visit. Not only does it offer stationary, it also offers desk accessories. For a small adventure, the Kinokuniya Bookstore is the way to go.
Southgate Roller Rink: The Southgate Roller Rink is a fun way to spend the day with friends. Tucked away in Seattle, the roller rink has earned it's friendly reputation. The weekends are dedicated to families and the busiest time of the day is around 9pm. The rink offers a fun, 80's feel with its retro music and decor. With friends, family, or by yourself, the Southgate Roller Rink would make for a fun day in Seattle.